ABOUT SHARJAH
Located in the UAE, Sharjah is home to several commercial, educational and cultural institutions, as well as five-star hotels and vibrant communities of both locals and expats. Sharjah is the Middle East's best kept secret: an emirate where universities, entrepreneurs and government bodies collaborate to create a vibrant home for SMEs and global businesses alike. The emirate comprises Sharjah City, the Central Region including Mleiha, Al Badayer, Al Dhaid, and the East Coast including Khorfakkan, Kalba, Dibba Al Hisn.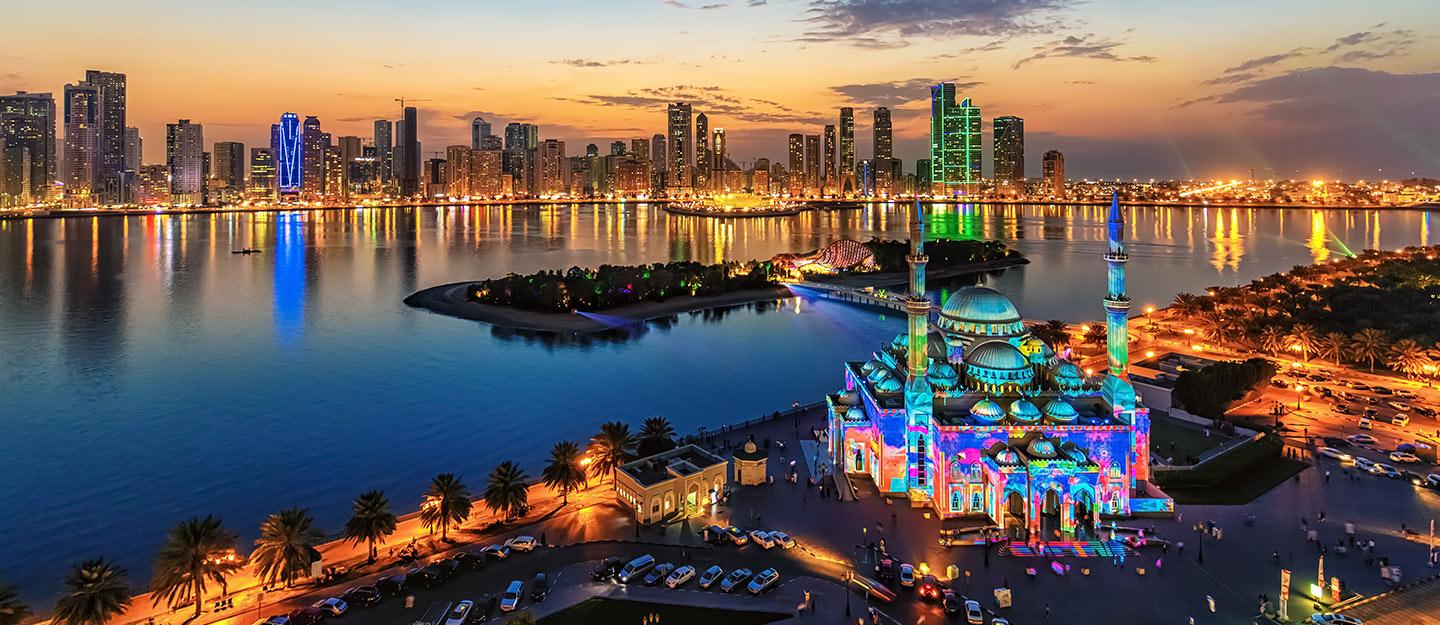 The Emirate benefits from a number of investor-friendly rules, regulations and infrastructure, including a network of five free zones and 19 industrial areas that contribute over 48% to the UAE's gross output.
Sharjah is widely recognised as the cultural capital, industrial hub and education hotspot of the UAE, and is now becoming increasingly well-known for its pioneering sustainability initiatives and as a world-class R&D, innovation and startup hub. With exceptional support provided by the government, lower costs than neighbouring emirates, and a culture of innovation, the city is an ideal choice for multinationals seeking a base in the Middle East.
Thanks to Sharjah's diversified commercial growth strategy, the Emirate has been recognized as the eleventh-most attractive international destination for FDI in the world. For investors looking to live in the UAE, Sharjah also offers a relatively low cost of rent and utilities, supported by a thriving lifestyle scene that makes it ideal for business and life.
Centrally located between Europe and East Asia, and with convenient access to major international airports and ports on both the Persian Gulf and Indian Ocean, Sharjah is a strategic investment destination for global companies looking to explore emerging markets.
Third-largest emirate in the UAE

The only emirate overlooking the Persian Gulf and the Gulf of Oman

Moody's Stable Rating of A-3

Moody's Standard & Poor's rating of BBB+

Sharjah Credit Ratings of A3

FDI flow of AED 5.97 billion in 2017

Cumulative international investments of AED 36 billion in 2017

Non-oil GDP of AED 89 billion in 2018
5 reasons to invest in Sharjah:
1. Culture and Tourism
Sharjah has evolved over the years into a central hub for the arts as well as cultural history and heritage. Granted the title of 'Cultural Capital of the Arab World' by UNESCO in 1998, Sharjah is home to almost a quarter of the entire country's historical museums. Due to this, tourism within the emirate is a rewarding opportunity for business setups in the UAE. With over 1.7 million visitors to the emirate along with high quality hotels and restaurants, as well as a surge of visitors expected to arrive due to EXPO2020, Sharjah offers a wide range of investment-based business opportunities to those interested in this particular sector.
2. Free Zones
Sharjah possesses a strategic position that makes the emirate the trading hub of the region. In addition to this, the government has allocated designated free zones, making company formation in the region easy and profitable. SPC Free Zone is one such free zone that offers a platform to cater to the needs of entrepreneurs looking to start or migrate their business across various industrial sectors, providing consulting services along with all the necessary requirements.
For more information about each Sharjah Free Zones, Click on its name:
3. Education and Healthcare
The education industry in Sharjah is highly developed, with numerous campuses that offer courses across various disciplines. With over 232 schools and 21 higher learning institutions, as well as more than 25,000 students present in the emirate's renowned University City, Sharjah provides excellent investment opportunities across the education sector. Along with this, the emirate also provides a large pool of opportunities when it comes to the healthcare industry. Covering everything within the industry from research and development to pharmaceuticals and hospital supply management, the industry provides benefits that affect both businesses and the public alike. With over 15 public and private hospitals, insurance, and private healthcare for all within the emirate, the industry has shown incredible growth and opportunity for investors and entrepreneurs alike.
4. Logistics and Manufacturing
With export and re-export markets rapidly expanding, and over 62% of industrial hubs involved in the freight forwarding sector, Sharjah is an emirate that has a locational advantage, allowing for a wide range of logistic based possibilities. Similar opportunities also exist in the manufacturing industry, which is the second largest industry in the emirate. Light manufacturing in particular accounts for 16.5% of the emirate's GDP and nearly a third of the UAE's manufacturing output as a whole, making the industry heavily sought after in terms of investment and venture-based opportunities.
5. Sustainability Initiatives
The emirate has started a multitude of efforts to become more sustainable in terms of its environmental impact and energy consumption. Initiatives to switch to renewable sources of energy, the introduction of environmental protection legislation, as well as the establishment of projects like Sharjah Sustainable City- Sharjah's first community with net zero energy, has made the emirate an attractive location to invest in for investors interested in renewables, waste management, and research and development of products and services.
Sources: www.hfza.ae , www.investinsharjah.ae , www.spcfz.ae