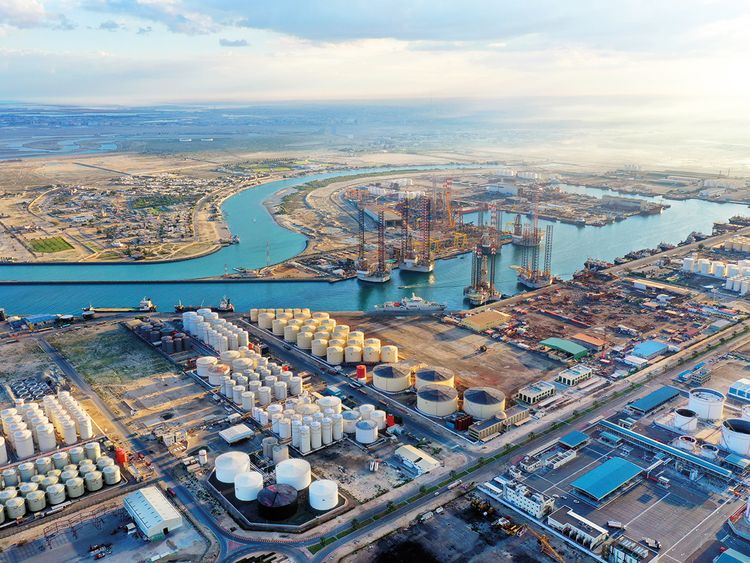 HAMRIYA FREE ZONE SHARJAH LOCATION
Also known as the Al Hamriyah Free Zone, the industrial zone in Sharjah was established in 1995. Home to around 6,500 businesses from over 163 countries, the area is located in Sharjah, the third-largest emirate in the UAE and the Cultural Capital of the Arab World as declared by UNESCO. With the Gulf of Oman to the East and the Arabian Gulf to the West, the emirate also enjoys a favorable geographical perspective. Sharjah also has a strategic location between the Far East and Europe — providing access to important emerging markets in countries like the Kingdom of Saudi Arabia, India, Iraq and Iran.
WHY SET UP A BUSINESS IN THE HAMRIYAH FREE ZONE?
The emirate of Sharjah is the only one that has ports on the coast of the Arabian Sea and Arabian Gulf, which make it an integral part of the global supply chain with access to global shipping networks. The Hamriyah Port is a center for exports in international markets. The prime coastal location is enhanced thanks to Sharjah's well-connected road network which also connects the area to Oman, Bahrain and further on. In addition to being a hub for oil and gas companies, other highlights include the HFZA Maritime City where investors can augment opportunities like shipbuilding, repair, offshore fabrication and others.
ADVANTAGES
In addition to strong land, sea and air connectivity, setting up a business in the area — specifically via the Hamriyah Free Zone Authority (HFZA) — comes with the following benefits:
Full foreign ownership
No re-export, export or custom duty
Renewable short and long-term lease options
Access to the GCC and UAE markets
Online service for visas, renewals and other applications
Business set up in an hour
Access to a 4-metre deep inner harbor and 14-metre deep port
Special benefits in VAT
24-hour security
Fixed land lease rates for the first 10 years
Plots can be developed for up to 60% by investors
Telecommunications infrastructure
A good road network, electricity and water infrastructure
Onsite customs facilities and labour accommodations
WIDE CHOICE OF WAREHOUSES AND OFFICES
The Hamriyah Free Zone features a variety of warehousing options and well-equipped offices for business owners. Here is an overview:
Warehouses
In terms of warehousing, the commercial area in Sharjah offers investors a range of pre-built units ranging from 276 sq.m to 614 sq.m in size. All warehouses are made in compliance with environmental and government safety regulations and include perks like ample parking spaces as well as appropriate infrastructure for IT requirements and utilities.
Well-equipped offices
State of the art communication facilities and flexible spaces are just some of the many office amenities offered at the Hamriyah Free Zone. Executive offices start from 15 sq.m with executive suites ranging from 22 sq.m to 40 sq.m. Other benefits include annual renewable leases, a ready IT infrastructure, conference rooms with internet facilities, ample parking spaces, and more.
3 TYPES OF LICENSES
The HFZA offers three types of business licenses to business owners looking to operate profitable ventures in the region:
Industrial License: The license allows holders to import raw material for processing, packaging, assembly, manufacturing and related purposes. Holders can use local distributors and agents for products to be sold in the UAE market.
Commercial License: The license allows holders to export, import, distribute, sell and store items as specified in the license. This also includes Specific Trading, General Trading (for up to 3 to 5 activities) and E-commerce.
Service License: The license allows holders to operate services that are specified on the license and only within the Hamriyah Free Zone.
SETTING UP A BUSINESS AT THE HAMRIYAH FREE ZONE
How can I start a free zone business in the UAE? Business owners hoping to expand or start a venture in the nation have probably asked themselves the same question. Thanks to the mentioned benefits, a lot of them have turned to the Hamriyah Free Zone. Additionally, a convenient setup process is also a major advantage.
SETUP PROCESS
The Hamriyah Free Zone Authority offers three types of legal statuses:
Free Zone Establishment (FZE) with one shareholder
Free Zone Company (FZC) with 2 to 5 shareholders
Branch of a local or international company
Regardless of the type of license required, business owners can establish companies with the HFZA in 3 steps:
– Submit signed application forms with required documents
– Make the payment
– Collect the trade license
Documents required for the application differ for a free zone establishment and branch company. For example, requirements for a free zone company include a copy of the shareholder's and manager's passports. Documents for a subsidiary company include a certificate of incorporation, copy of the parent company's license, an incorporation certificate and other details.
For a full list of requirements, visit the HFZA website.
The HFZA offers a range of packages for those looking to open businesses or lease warehouses. Here is what the offerings cover:
HBC Offices: 2 packages for FZE offices with details on import and export trading with provision to apply for one visa for HBC (Hamriyah Business Centre) offices
E-Office: 3 packages for FZE and FZC with a maximum permit for 7 visas with offerings like import/export trading for a certain number of services and categories
Executive Office: 5 packages with Package 1 including a commercial license for trading up to five specified products. Annual payments include AED 3,500 and AED 12,000 for General Trading with a yearly service fee of AED 5,000.
Warehouse: 3 packages with Package 1 including an annual AED 3,500 license fee and a one-time AED 9,000 charge as incorporation fee. Warehouses or factory spaces offered in each package differ in size and facilities
Land: Available for short and long-term leases, plots from the HFZA start from 2,500 m2 with the starting price at AED 30/m2
E-SERVICE
For convenience, All HFZA business owners are given exclusive access to an online service. The service includes an HFZA Investors E-Portal and Document Services amongst others. Document services include an HFZA Company License, Electronic Document and Contract Verification services. Other services include VAT Registration for vendors and suppliers where they can update their tax registration numbers and certificates.
Clients will need to register on the online portal for a username and password with a secondary option of logging in with an Emirates ID or email address.
HAMRIYAH FREE ZONE INDUSTRIES
In addition to the availability of office and warehouse facilities, easy access to Emirates Road (E611) and Sheikh Mohammed bin Zayed Road (E311) facilitate the business environment at the Hamriyah Free Zone. On that note, here is a list of industries covered by the HFZA:
Building Materials
Heavy Industry
Food
Logistics and Transportation
Oil and Gas
Packaging
Petrochemical
Perfume and Cosmetics
SMEs
Recycling
Timber
Steel
Textile
Marine
Amongst all the infrastructure requirements, the Food Park deserves special mention. A well-endowed platform for those looking to thrive in the food industry, the area is a hub for dedicated to the food and allied commercial industries that deal in processing, importing, exporting and repacking of foodstuffs. Those looking to set up businesses in the food industry can benefit from the Food Park. Valued added services offered in this regard include certification for Halal services, food testing and lab services.
We hope our review of the Hamriyah Free Zone in Sharjah helps those looking to set up business in the emirate and take advantage of a booming GCC market. Thinking of expanding your business to other emirates? For information on free zones in the emirate, check out our guide to free zones in Dubai before you make a decision. Looking for visa information as an investor? Find out how the new UAE long term visa can benefit investors in the country
Hamriyah Free Zone Authority (HFZA)
General Information about Hamrriyah Free Zone Authority - HFZA
HFZA offers investors the perfect opportunity to set up a business in a free zone environment with numerous benefits.
Hamriyah Free Zone (HFZ) was established by an Emiri decree issued in November 12, 1995. HFZ is fast becoming one of the cornerstones of the United Arab Emirates industrial development. As the Next Generation Free Zone, Hamriyah Free Zone is ensuring that its management is flexible and dynamic besides being an investor oriented free zone.
Hamriyah Free Zone Authority has taken creation in 1995, fast becoming one of the cornerstones of the United Arab Emirates industrial development. Hamriyah Free Zone is ensuring that its management is flexible and dynamic besides being an investor-oriented free zone, providing competitive incentives and unique opportunities to establish a business in a tax free environment, full company ownership, exemptions from all commercial levies and repatriation of capital and profits. The free zone manages an area of approximately twenty two million square meters of prime industrial and commercial land and a deep-water port, which is constantly expanding.
Access to 14 meter deep water port and 7 meter deep inner harbor;
Land lease for 25 years renewed for similar period;
Pre-built warehouses, factories and office units for lease;
Executive office suites in the International Business Center for lease;
On-site accommodation for investors' personnel including recreation center and health club;
Transportation via road, 3 sea ports and Sharjah International airport;
Highly developed infrastructure and telecommunications links;
Abundant and inexpensive energy (Electricity: $0.05 per KWA, Water: $8.17 per 1000 Gallons);
Liberty for personnel recruitment and economical workforce;
Affordable cost of living.
Industrial License
This license will allow the holder to import raw materials for the purpose of manufacturing, processing and/or assembly of specified products. The finished products may be exported outside the UAE. If the finished products are sold in the UAE market then the License holder will need to do this through a local distributor or a local agent.
Commercial License
This license will allow the holder to import, export, sell, distribute and store items specified on the license. If the finished products are sold in the UAE market then the License holder will need to do this through a local distributor or a local agent.
Service License
This license allows the holder to carry out the services which are specified on the license within the Hamriyah Free Zone only.
Benefits:
100% Foreign company ownership is allowed
100% Import and Export tax exemption
100% Exemption from all commercial levies
100% Repatriation of capital and profits allowed
25 year leases available, renewable for a further 25 years
No corporate profits tax No personal income tax
Strategic location to access global markets
Access to the UAE and GCC markets
Attractive investment incentives
Abundant and inexpensive energy
Developed infrastructure
Land for lease for investor development
Purpose built office accommodation, warehousing and factory units
Three seaports and international airport
Favorable low cost living conditions
Low labor costs
Hamryiah company formation
Establishing a branch.
Business setup as branch of a local company or of an international company no capital is required to be deposited with the UAE bank.
A professional firm with regional focus and having a global representation, UAE Free Zones covers all aspects of doing business in the UAE. While based in the UAE, we offer comprehensive services for doing business in the Hamriyah Free Zone Authority. We are committed to provide the best business advisory services on a timely basis with personal dedication to each client, helping them with their plans and being available to help and solve simple and complex problems.
We look forward to doing business with you!
source: HFZA