About Aegean Free Trade Zone (AFZ)
Opened in 1990, the Aegean Free Trade Zone (AFZ) is a modern industrial park and the first export-processing zone in Turkey developed and operated by a private sector company. The site comprises of 620 acres and is located 4 km from the Izmir International Airport and 12 km from the city center and Izmir Port. ESBAS has built the entire infrastructure and facilities in the Zone. The company also provides all the essential business basics, including electricity, water, telecommunications, and natural gas to all sites. ESBAS supplies a wide array of supplemental services as well, including loading and unloading, equipment rental, stock control, construction, repair and maintenance, customs brokerage, and port-related services.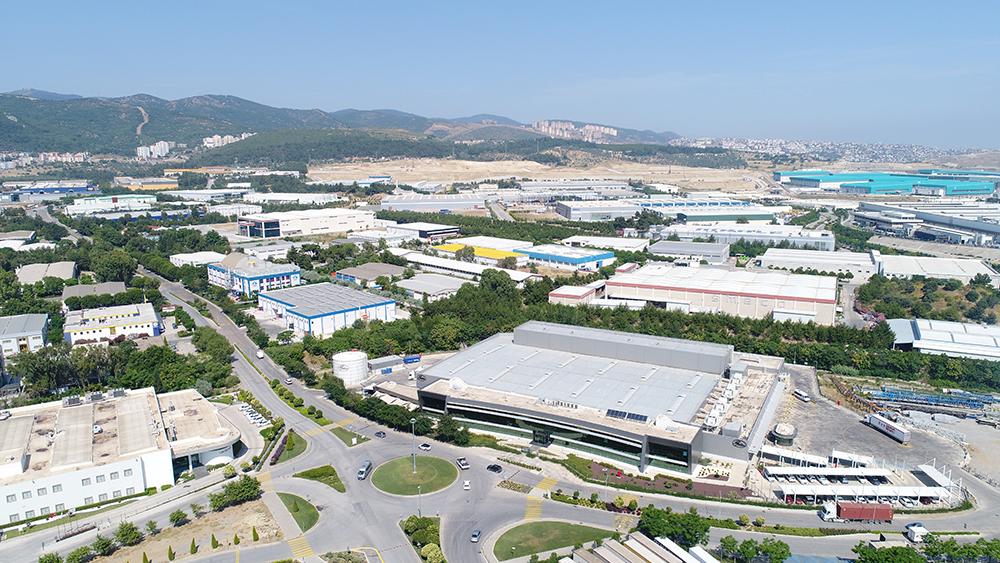 LOCATION ADVANTAGES
Easy access to a global market
As a natural bridge between the East and West, Turkey is strategically located near significant world markets and boasts a strong culture of industry and service. Therefore; the country is one of the best locations anywhere in the world for manufacturing and trade since ancient times. There is easy access to 1.6 billion customers in Europe, Eurasia, the Middle East, and North Africa worth USD 23.5 trillion of GDP.
The City of IZMIR; Pearl of the Aegean
Izmir is one of the oldest cities in the world with a history, which stretches back over 8,500 years. The city successfully blends modern living with this rich past, an inheritance entrusted to it from history.
As Turkey's third largest city, Izmir is the capital of the Aegean Region and an important center for manufacturing and trade. With its 19 industrial estates, 3 free zones, and 9 universities, Izmir is one of the lifelines of the Turkish economy. Its international seaport is the most important one in Turkey, as an exporting route for its 70 thousand businessmen, 6,500 industrialists, and close to 100 thousand tradesmen. Having actively sought new investments in tourism and business, Izmir now leads Turkey as a city in attracting the most foreign investment and trade.
The most organized Free Zone in Turkey, at the heart of the city...
The Aegean Free Zone is located close to the EU and the Middle Eastern markets, near major ports, international airports, and highway networks, and at the heart of culture, tourism, and entertainment centers. It is 4 km to Izmir Adnan Menderes Airport, and 12 km to the Port of Izmir and the Izmir city center.
Izmir has great advantages in terms of national and international sea and air transportation. Alsancak, Aliağa-Nemrut, Dikili, and Çeşme ports are key locations for sea transport. The Port of Çandarlı, which is still under construction and is expected to be one of the 10 largest ports in the world, will be another point of connection enhancing the potential of Izmir.
INVESTMENT ADVANTAGES
Wide Range Tax Advantages
The Aegean Free Zone provides unique advantages for companies with its focus on manufacturing, which generates employment and increases trade volume.
The most widened advantages are given to manufacturing companies. The advantages for companies investing in the Zone are as follows:
100% Corporate Tax Exemption for manufacturing companies. (Trading companies pay the corporate tax at the end of the financial year from their profits. The corporate tax rate is 22%.
100% Income Tax exemption on employee salaries for manufacturing companies that export 85% or more of their products. (Trading companies pay income tax for their personnel. The income tax rate changes between 15%-35% according to the salary ranges.) (please see the detailed explanation example below)
No Customs Duties for goods, equipment, and machinery brought into the Zone.
Opportunity to buy Turkish products at export prices without the Sales and Added Value Tax.
Young and Skilled Labor Force
The demographics of Turkey's population have a positive impact on the country's economy, representing a window of opportunity in many respects.
The young and well-educated population of Turkey is considered to be a great asset as investors are facing considerable challenges elsewhere in Europe, such as aging and shrinking populations. Turkey offers excellent opportunities with its growing, young, and dynamic population — an indispensable contributor to a strong labor pool and a lucrative domestic market.
Turkish workforce consists of talented, well-educated, skilled, and industrious professionals. World Bank and OECD reports indicate that Turkey is one of the most advantageous countries in Europe in terms of labor force and working age capacity. The same reports also demonstrate that Turkey is expected to keep this advantage at an increasing pace, even in the year 2050.
On the other hand, Turkey does not only have a large scale of labor force reserves, the productivity and efficiency of this labor force is impressive as well.
Over 30,5 million young, well-educated, and motivated professionals.
Approximately 735.000 students graduate per year from over 193 universities.
More than 950.000 high school graduates with around half from vocational and technical high schools.
Focus on high-quality investment
In order to stay competitive in the global arena of business attraction, TURKEY realizes that shaping investment policies and optimizing incentives are the core criteria for attracting high-quality investments.
Being aware of how to achieve economic development expansion and retention goals for years to come, TURKEY has long determined the key areas for additional incentives to increase the capability of attracting investments.
OPERATIONAL ADVANTAGES
One-Stop Shop Model:
ESBAŞ, developer and operator of Turkey's growing, developing, and most modern industrial center, offers companies operating at the Aegean Free Zone a variety of services including leasing, management, construction, and storage, along with infrastructural and socially-oriented services.
The most important principle at ESBAS is to develop and provide services of utmost benefit to their Users while continuously improving their operations. Being a one-stop shop with minimum bureaucracy gives the advantage of speed in order to prevent loss of time, enabling Aegean Free Zone users to concentrate on their operations.
Electricity, industrial water, telecommunication, waste collection, industrial cleaning and other municipal services, landscape development as well as maintenance services.
Loading/unloading, transport, equipment rental, temporary personnel, and stock control services as well as customs coordination services.
ESBAS Food Factory, the largest and most modern food factory in the Aegean Region, is located in an 11.140 square meter facility and can provide meals for up to 24.000 people daily. Food Services provides special food preparation, distribution, and catering services to all companies, and serves a fixed menu at the Cafeteria, or "a La Carte" service at the ESBAS Restaurant and Food Court.
Occupational Health and Safety Department Service, Child Care Center Service, Landscape Service, Foreign Trade Service, Personnel Transportation Service, Cleaning Service, Conference, and Training Hall Rental Services.
Other Advantages
OPPORTUNITY FOR MEDIUM AND LONG-TERM PLANNING
The validity period of an operating license is a maximum of 20 years for tenant users and 45 years for users who wish to build their own working spaces in the zone.
OPPORTUNITY TO TRANSFER PROFITS
Free zone earnings and revenues can be transferred to any country, including Turkey, freely without any prior permission.
EQUAL TREATMENT
The incentives and advantages provided in the free zones are available to all firms regardless of their origin.
NO TIME LIMITATION
The goods can remain in the zones without any time limit.
MANAGING TRADE ACTIVITIES ACCORDING TO MARKET DEMANDS AND CONDITIONS
In the Turkish Free Zones, unless the manufacturers demand, any authority regarding prices, quality and standards granted to public institutions and agencies by laws or by other legislation is not valid. Also, legislative provisions pertaining to customs and foreign exchange obligations are not applicable in the zones.
INFLATION ACCOUNTING OPPORTUNITY
Every payment in the Turkish Free Zones is done with Convertible Currencies.
ACCESS TO DOMESTIC AND FOREIGN MARKETS
In contrast to most of the free zones in the world, sales to the domestic market with the exception of consumer and risky products are allowed.
REDUCED BUREAUCRATIC PROCEDURES AND DYNAMIC MANAGEMENT
Bureaucracy is minimized during the application and operation process. Free zones are operated by professional private sector companies.
COMPETITIVE INFRASTRUCTURE STANDARDS
The infrastructure of the Turkish Free Zones is competitive with international standards
STRATEGIC LOCATION
Turkish Free Zones are close to the EU and Middle East Markets, adjacent to the major Turkish Ports on the Mediterranean, Aegean, and Black Sea, and have easy access to international airports and highways.
Operating License Options
Companies are required to apply for an "Operating License" before they can operate in the Aegean Free Zone. Types of Operating Licenses are:
Manufacturing
All activities involving the purchase of raw materials and intermediate goods used in production, selling, marking, packaging, labeling, and exhibiting manufactured goods
Trading
Purchase-sale, storage, labeling, packaging, and exhibition of traded goods
Assembly-Disassembly
Assembly and disassembly of machinery and equipment
Maintenance-Repair
Maintenance and repair of machinery and equipment
Other (Banking, Consultancy, etc.)
LEASING SERVICES
Leasing Options
ESBAS offers various leasing options to companies for their manufacturing and trading activities. This allows companies to start operations on an optimum scale, with ESBAS addressing expansion demands in a fast and convenient manner.
Land
Companies can lease infrastructure-ready parcels for up to 45 years at reasonable costs to construct their own buildings.
Outdoor Storage Areas
Private storage areas of 100 m2 or more together with loading/unloading services are available for lease.
Office Buildings
Ready-to-use office units of 15 m2 or even larger, are available for lease.
Private Factory Buildings
Ready-to-use facilities of 210 m2 to 2,000 m2 are available for lease.
Source: www.esbas.com.tr