At the 550 sq km distance of Muscat, the Capital of the Sultanate of Oman, and located in Al Wusta Governorate in the center of the country is the Special Economic Zone at Duqm (SEZAD). With an area of 2,000 sq km, the Special Economic Zone at Duqm is the largest in the Middle East and North Africa and among the most prominent investment destinations at regional and international level.
With such a prime location that overlooks the Arabian Sea and the Indian Ocean beyond, SEZAD is close to global shipping lanes which makes this free zone a great opportunity for those who wish to invest in the logistic sector. Not only is this free zone a great place for logistics, it is able to embrace projects in the industrial sector as well as in tourism, trade, and real estate development.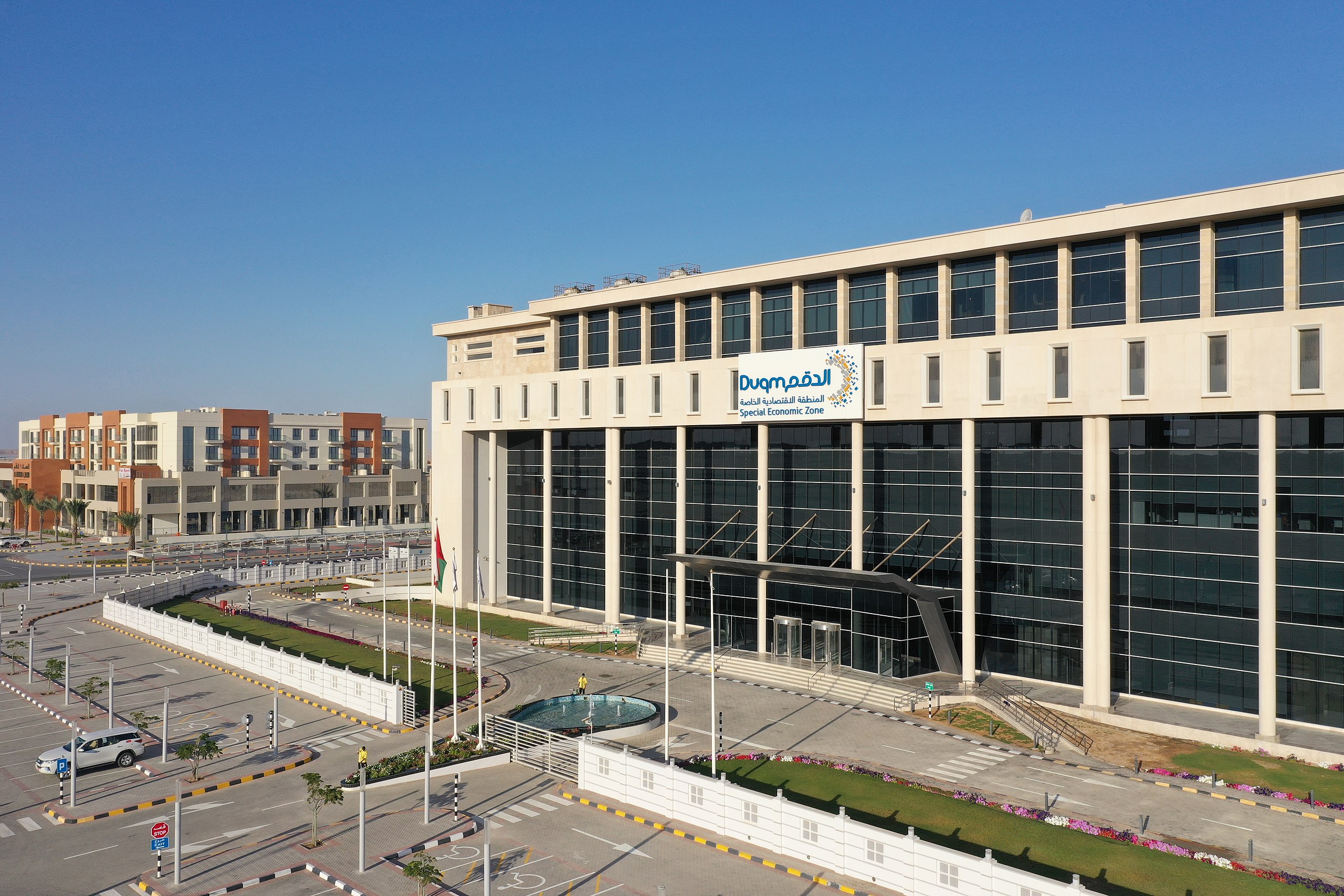 Alongside its prime location, the Special Economic Zone at Duqm (SEZAD) takes advantage of political stability, natural resources, exceptional topography, and breathtaking scenery which further contribute to this free zone's excellence for business and tourism.
SEZAD contains several economic, tourism and service development zones, the most prominent of which are a multi-purpose port, a dry dock for repairing ships, a fishing port, a regional airport, and tourist, industrial and logistical areas.
Why choose SEZAD?
A strategic location linked to the global trade
Located far outside the Hormuz Strait, the Special Economic Zone at Duqm (SEZAD) is strategically located on international shipping lines.
2.5 billion people market
SEZAD has unique advantages to help you position your business close to the fastest growing markets in the Middle East, South Asia, East Africa and beyond. Duqm is your gateway to regional and global trade.
MULTIMODAL CONNECTIVITY SYSTEM
An integrated transport system through modern road network, ports and airport
Covering an area of nearly 2,000 sq. km– the size of Singapore – the Zone will drive the socio-economic growth in the Sultanate of Oman.
The Special Economic Zone at Duqm could be reached by road, air, or sea as well as railway in the future, making it within reach of around 2.5 billion consumers across the Middle East, South Asia and East Africa.
Conceived as a business-friendly and investment-ready destination, the Special Economic Zone at Duqm has been designed to cater to the needs of internal and external investors.
The master-plan envisions as many as 10 distinct zones each dedicated to a specific type of investment and activity, notably Heavy and Light Industry, Fisheries, Minerals, Warehousing & Logistics, New Duqm City, Crude Oil Terminal and Tourism.
Potential Investment Opportunities
Storage and Logistics
Commercial offices and Residential Complexes
Industrial Properties
Tourism
Fisheries
Education
Pharmaceuticals
Renewable Energy
Advantages
100% foreign ownership
No currency restrictions
No minimum capital requirement
Tax exemption up to 30 years from the date of commencement of operations; renewable for a further 30 years
100% repatriation of capital and profit is permitted
Usufruct agreements up to 50 years; renewable for similar periods
Sub-zones of SEZAD
There are eight distinct sub-zones in SEZAD, each of which is dedicated to a specific type of investment and activity:
260 sq. km. have been allocated for industrial use, to be interlinked with all modes of transportation.
By far the most important cornerstone of SEZAD, the Port of Duqm with its giant breakwater arms, serves as the gateway to the industrial hub and its sprawling hinterland.
Nestled within Duqm Port is one of the world's most modern ship-maintenance and repair yards, ranking among the largest in the Middle East and North Africa. Its location on the southeastern seaboard of Oman, within proximity to regional and international maritime trade routes, is a distinct advantage.
Along the eastern edge of the Special Economic Zone at Duqm lies the Coastal District, one of its highest value-creation opportunities.
The district would include resort hotels, residential communities, cafes, family-oriented entertainment and leisure facilities. A sensitive development approach will preserve the coastline for future generations. With tens of thousands of people expected to make Duqm their home over the coming decades, developers are moving in to secure their share of what promises to be a sizable entertainment and leisure market. SEZAD envisions investments across the gamut of options, including residential complexes, shopping malls, restaurant clusters and amusement hubs.
Capitalizing on the abundant sea-food resources of the Arabian Sea, efforts are made to exploit the lucrative comparative advantage of Duqm's traditional affinity for fishing and associated activities. The Zone will include the Fisheries Industrial Complex of approximately 7.5 sq. km. and a fishing harbor with a total water area of 6.2 sq. km.
Logistics areas (for storage, warehousing, showrooms, etc.) are advantageously located throughout SEZAD, whether close to the transport hubs, in the storage and warehouse zone in the Airport District and in the light-industry area next to the Duqm airport and within the Duqm Port or strategically located within reach of the medium and heavy industries.
Residential Housing
Education and Training
Since walkability and sustainability are at the core of the future Duqm City, educational and training facilities will be located in all residential neighborhoods. The Civic District will, however, act as a center for larger-scale educational and civic services. In the heart of Duqm, connected to the major city highway and surrounded by desert parklands, the civic district is a hub not just for Duqm but for the surrounding region.
Types of Entities
There is no minimum capital requirement and no need for having an Omani national in the ownership of the company for establishing a business in SEZAD. The types of legal entities that can be established in SEZAD are:
General Partnership
Limited Partnership
Joint Ventures
Foreign Branch Office
Limited Liability Company LLC
Joint Stock Company
Holding Company
For Further Information Regarding Company Registration In The Special Economic Zone at Duqm Or Any Other Free Zone In The Middle East, Contact Us At MEFZ (Middle East Free Zones) And Soha Group Of Companies.