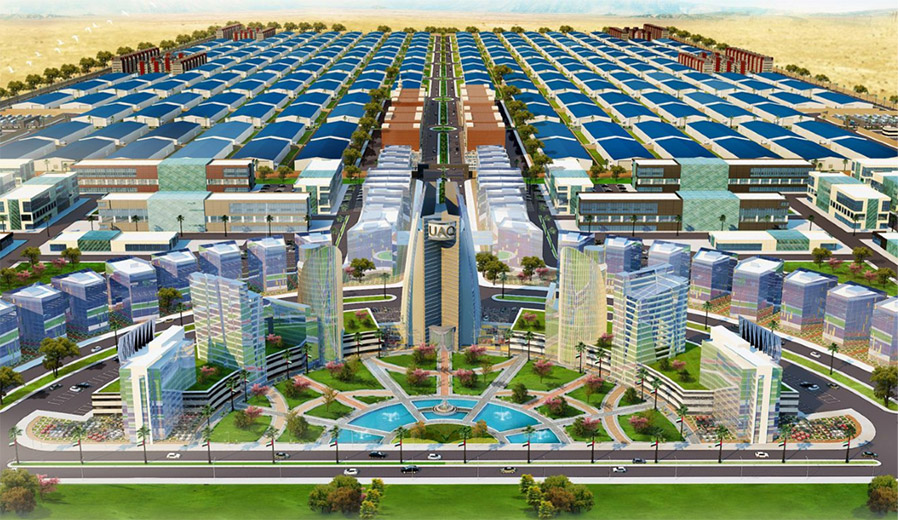 Emirate of Umm Al Quwain
A friendly and prosperous emirate with modern infrastructure, Umm Al Quwain is among the seven Emirates that make up the federation of UAE – one of the most prosperous countries in the world.
Umm Al Quwain means "the mother of two strengths", which refers to the emirate's two powers – land and sea. The emirate is now ruled by H.H. Sheikh Saud bin Rashid Al Mua'lla and the crown prince is H.H. Sheikh Rashid bin Saud bin Rashid Al Mua'lla. Umm Al Quwain lies between the Emirate of Ras Al Khaimah and Ajman on the west coast, with a location along the important trade way between Asia and India. The emirate consists of the coastal city of Umm al-Quwain and the inland oasis town of Falaj Al Mualla. It has a coastline stretching 24 km. The Emirate has an area of 770 Sq. Km.
Located in the north of the country and just 45km from Dubai, Umm Al Quwain is renowned for its rich heritage, gorgeous desert landscape, breezy beaches, coastal mangroves and exotic fauna, which makes it a popular leisure destination within the United Arab Emirates (UAE). Umm Al Quwain depends on revenue from hotels, parks and tourism, fisheries, trading activities, manufacturing as well as the Umm Al Quwain Free Trade Zone (UAQFTZ) based at two geographic locations i.e. Ahmed Bin Rashid Port and Umm Al Thoub. Manufacturing, tourism and trade are given the highest importance by the Emirate. Government has launched several programs to help make the emirate attractive to foreign investment and to support small and medium establishments (SME) and the fisheries sector. The government's vision comprises five main pillars: a sustainable and diversified economy, social solidarity, attractive tourism, an excellent infrastructure, and innovative government.
Umm Al Quwain is ideal for any business that is motivated by value as it allows you to leverage a unique location in the UAE that offers a stable economy, open investment climate, low costs of living and labour, and a great destination for import and export. There are several business initiatives and programs launched by the government to support local businesses and industries. The government's policy is to boost trusts with the private sector to build an economy based on knowledge, research, and development. These factors make it a strategic business base and the best growth partner in the MENA region for any investor, with the subcontinent, Far East and Europe all within easy reach.
Umm Al Quwain Free Trade Zone (UAQFZ)
Why Choose Umm Al Quwain (UAQ) Free Trade Zone?
The UAE is fast becoming the destination of choice for global corporations, entrepreneurs and startups alike because of favourable tax laws, clean, peaceful and secure living environments, access to affluent consumers, top-notch infrastructure, speedy development, tech-savvy workforce and access to global markets. As an organization directly under the Government of Umm Al Quwain, the UAQ Free Trade Zone combines the UAE advantage with additional benefits of its own for the investors.
Excellent Startup Accelerator
The Emirate's proactive economic support for startups, the Free Zone's geographic accessibility, minimal operational expenses and low living costs offer startups high-performance potential as it accelerates their growth in the critical, initial years. This makes it an ideal location for SMEs and micro-businesses.
The Benefits
Extensive Economic Benefits
The Free Zone offers many financial advantages that include:
0% corporate and personal tax

100% capital and profit repatriation

100% company ownership

No currency restrictions

100% import and export tax exemption within the Free Zone and outside GCC countries.
Invaluable Investor Support
Progressive and investor-friendly rules and regulations

Simple and fast registration process with excellent customer support

No restrictions on hiring foreign employees

Special concessions at UAQ's sea port
Quick, Easy & Remote Setup
At UAQ Free Trade Zone, efficient due-diligence ensures that investors set up their businesses fast. Quick documentation enables speedy completion of registration at the free zone and you could be a business owner in just two days. No physical presence is required at the Free Zone office for company formation, thus helping you save on time, cost and other resources.
Future-focused Infrastructure
A constant drive for innovation ensures that the Free Zone Authority is always upgrading its infrastructure to suit future needs of the market. The Free Zone is currently under the second phase of development and more projects that align with the government's ambitious initiatives are underway.
The free Zone has fully serviced industrial land, warehouses, offices and flexible/virtual office leasing options with top-notch facilities that suit any size and type.
Strategic location, Access to Global Markets
The Free Zone's convenient location offers access to over two billion populations and a strong base from which you can build international ventures.
Strategically located near UAE's primary seaports, Dubai International Airport and Sharjah International Airport, the UAQ free zone allows you to trade with the global businesses conveniently. The Free Zone is just 30 minutes from Dubai, the business capital of UAE.
Great for Logistics
Superb road infrastructure is a key highlight of Umm Al Quwain Free Trade Zone. Located beside the state highway E 311(Mohammed Bin Zayed Road) , UAE's longest road, UAQ free trade zone is a great location with significant logistic advantage in connecting to the other Emirates and to the GCC Countries.
An important seaport, Umm Al Quwain's Hutchison Ports provides a four-berth facility with an 845-metre-long quay, making the UAQ Free Trade Zone a great location for import and export. This is a key entry-exit point for container, general, Ro-Ro and bulk cargo in the northern part of United Arab Emirates. Businesses at UAQ Free Trade Zone get special concessions at UAQ's sea port.
Versatile Business Ecosystem
The Umm Al Quwain Free Trade Zone (UAQ FTZ) is suited to both emerging and established businesses as it has progressive policies and fast-developing infrastructure that feeds a diverse business ecosystem.
UAQ FTZ allows all kinds of legal business activities to help you run any business of your choice. From freelancing to consulting, e-commerce, general trading, manufacturing, assembling or repacking you can establish any kind of business here.
Dual licensing
Investors can also leverage the dual licensing provision at UAQ FTZ, which allows you the flexibility to conveniently conduct multiple business operations in the Free zone. For this, you need to first get a company setup for your chosen primary business activity and then add a new license to your existing company. This offers investors scope for diversification, improves time efficiency and cost-effectiveness.
Transparency
The Umm Al Quwain Free Trade Zone has a strict but transparent regulatory framework that protects the investors' interest whilst also providing a level of economic stability.
A one-stop-shop for business in UAE
UAQ FTZ makes life easier for investors by acting as a single point for a gamut of services like immigration, licenses and approvals, customs, facilities, visas and employment, thereby easing all the legalities required for you to operate your business from the Zone
Strong Expat Community
A cosmopolitan culture and world-class facilities make UAE home to many expats. For the same reason, businesses can choose from a variety of talent pools available in the country.
Entity
All entities formed in the Umm Al Quwain Free Trade Zone will be with limited liability (LLC)
Different types of entities can be established Umm Al Quwain Free Zone such as;
A Free Zone Establishment (FZE), which is suitable for a single shareholder

A Free Zone Company (FZC), which is for two and up to 50 shareholders

A branch of an existing company.
Companies can be formed by individual or corporate shareholder. A natural person who is at least 21 years of age and upwards can be a shareholder.
Every entity should have a natural person as manager, director and secretary.
With quick and easy set-up process, documentation will be a breeze for investors. The advantages are multiple license options in the same entity, no proof of start-up capital required, and set-up remotely from the convenience of home or office anywhere in the world.
Licenses
Umm Al Quwain free trade zone issues various types of licenses such as Commercial, Consultancy / service, Industrial & freelancer permit.
Clients can choose from more than 1500 business activities
Multiple activities can be clubbed in one license. Commercial license can be issued with 10 similar or 3 different categories. Consultancy / service / freelancer permit can be issued with two activities.
Entities can avail the option of dual license in the same entity i.e. an entity with a commercial license can obtain a consultancy / service license in the same company without the need of setting up another entity.
License validity will be minimum one year. Multiple year licenses can be issued
Licenses can be amended by changing the activities any time during the validity of the license
As a general rule with a free zone license, the client can do business inside the free zones or outside UAE. To do business in the local UAE market, it has to be through an agent or distributor. There are no restrictions in participating in any exhibitions in UAE.
License issuance is quick and easy…..
UAQ Free Trade Zone - the Business Licensing Department of the Government of Umm Al Quwain - has completed 34 years of operations as a business jurisdiction. The Free Zone Quwain offers a transparent legal framework with a host of licenses, allowing businesses to cover 1500+ business activities, giving it credibility and a solid foundation.
There are multiple licensing options for business entities, including FCZ (Free Zone Company) for 2–50 individual and/or corporate shareholders and FZE (Free Zone Establishment) for a single individual and/or corporate shareholders or a branch of a foreign/UAE company.
With few quick and easy set-up process, documentation will be a breeze for investors, and can operate the company in no time at all. The advantages are multiple license options in the same entity, no proof of start-up capital required, and set-up from the convenience of home or office anywhere in the world.
Support Services
As a one-stop-shop for all business needs, Umm Al Quwain Free Trade Zone provide a comprehensive range of competitive business support services for startups, medium enterprises and large business conglomerates. These include registration and licensing services, business and leasing options (warehouse/land/offices), and a wide range of support services ranging from residence visa, banking and document authentication. Our experienced staff offers essential cost-saving benefits for entrepreneurs and investors within the UAE and across the globe.
Residency
Hiring foreign workforce and applying for a UAE residence visa is rather simple. Umm Al Quwain Free Zone assists the investors and employees to obtain their residence and work visas through simple and easy procedures with affordable costs. All visas have a three-year validity period. UAQ FTZ visa process are quick and convenient for investors and employees alike.
Processing government documentation can be a complex task for many businesses, particularly for foreign investors unfamiliar with the region. UAQ FTZ service facilitates this, making the entire process quicker and simpler.
UAQ FTZ assist the clients to sponsor their dependents – spouse, kids, parents and maids with related to documentations, medical, emirates Identity card and visa stamping.
Banking
In today's adverse economic conditions, UAQ FTZ help SMEs to obtain financial support and access for simple and convenient banking solutions that better meet business needs. Along with the partner banks such as National bank of Umm Al Quwain (NBQ) offer easy access to bank opening services, loans, credit facilities, and trade financing services.
UAQ FTZ provide seamless traditional and digital banking services assistance to support innovation and value creation, empower SMEs and entrepreneurs, and simplify corporate banking requirements for companies registered in the UAQ FTZ, forming a privileged circle of customers who can enjoy the benefits of priority banking.
Post Licensing
UAQ FTZ Client Relations team handles the business license renewals or any amendments professionally. The team ensure that all the necessary paperwork is processed efficiently. Furthermore, a dedicated contact person will deal with all requirements from each individual applicant.
Source: www.uaqftz.com