Famagusta Free Port and Zone is located at the crossroads of east-west and north-south navigation routes in the Mediterranean and gateway of the three continents.
Because of this advantageous location it is an ideal place for foreign businessmen. Northern Cyprus is a paradise island of incomparable natural beauty, full of unique historical treasures. It lies in the clear blue waters of the Eastern Mediterranean. Famagusta Free Zone Is Located Near The Famagusta Port Which Offers Access To The Middle East Which Is Why It Is Sought By International Players In The Logistics Industry From Cyprus And The Rest Of The European Union.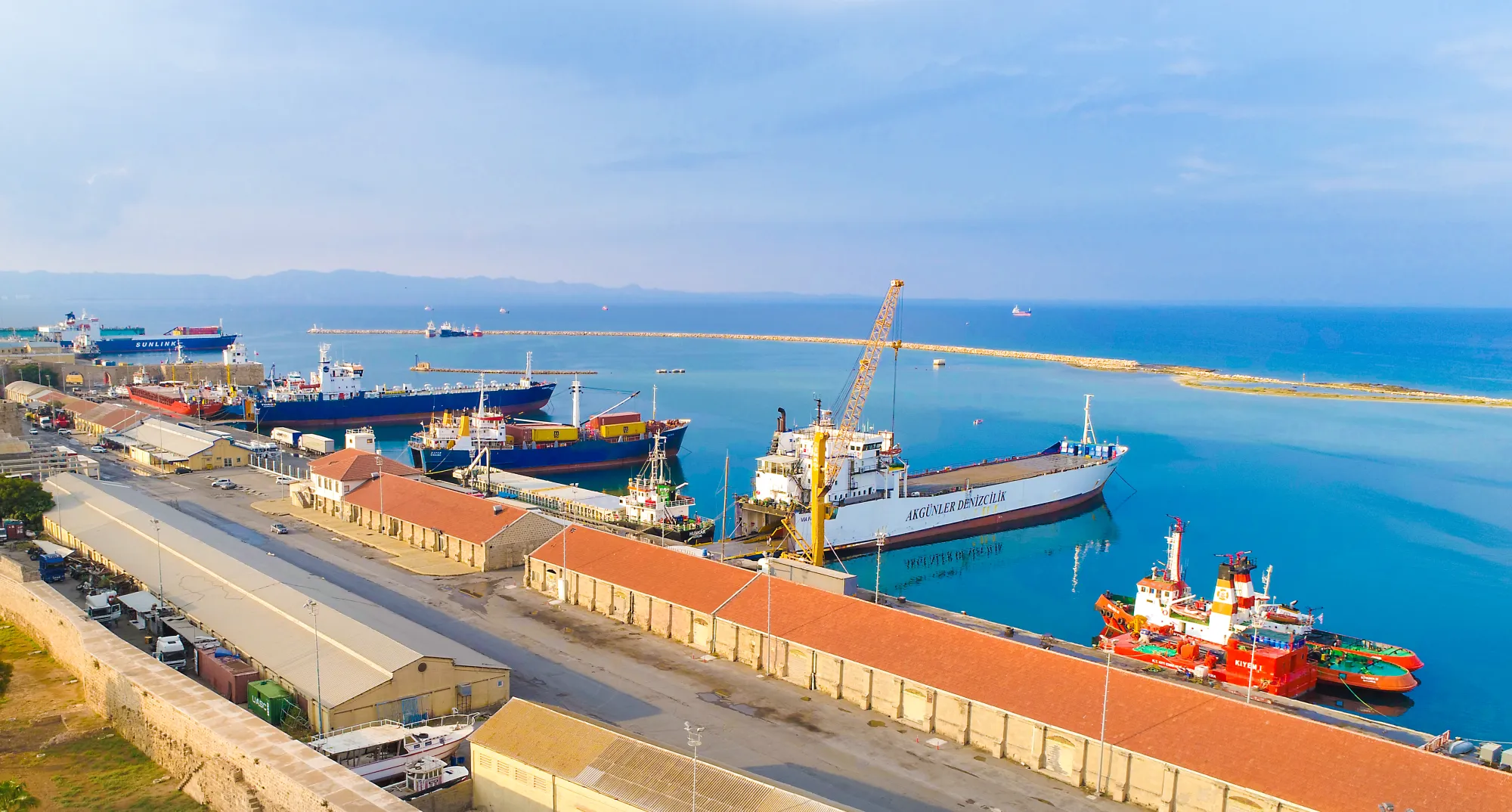 WHY FAMAGUSTA FREE PORT AND ZONE
Open Port to All Flags.

Expert and Friendly Service.

Geographically excellently positioned.

Strategically located with convenient regional and international air links

24 Hours Service rendered if and when requested.

Highly qualified and very competitive operating cost.

International Safety Standard Observed.

An Ideal Port for all functions i.e. Docking transshipment and as a Feeder Port especially for neighboring Middle East Countries and Turkey.

Not Port Congestion problems and / or delays.

No Storage Charges, for the first 7 days.

First 15 days no storage charges for full container.

First 30 days no storage charges for empty container.

Less formality.

No limitation on the proportion of Foreign Capital participation.

No limit on Repatriation of Profit and Capital.

Exemption from Corporate tax and Income tax.

Exemption from Customs Duties and Indirect taxes.

A pleasant working and living environment including the lowest crime rate in Europe
Benefits
100% VAT and Customs Duty Exemption
Companies established in a free zone are exempt from Value Added Tax (VAT), customs duties and all other indirect taxes.
100% Corporate Tax or Income Tax Exemption
All companies established in PortISBI are 100% exempt from "Corporate Tax" or "Income Tax" without any preliminary demand.
No Specific Time for Exemptions and Benefits
PortISBI users benefit from these exemptions and benefits for an unlimited period of time.
Minimum Banned Substance Range
PortISBI has a minimum restriction on banned substances. (Alcoholic beverages are allowed, unlike most free zones of cigarettes.)
Profit Transfer Opportunity
Revenues and earnings from free port and zone activities can be freely transferred to any part of the world without permission.
Equal treatment
Regardless of their origin, all companies benefit equally from the incentives and advantages provided in free zones.
No Time Limit
on Stocking It is possible to stock goods for an unlimited period of time in the free zone.
No Currency Restriction
All payments are made in free zone convertible currencies.
Decreased Bureaucracy
During the implementation and operation process, bureaucracy has been minimized.
Competitive Infrastructure Standards
The infrastructure of the PortISBI Famagusta Free Port and Zone competes with international standards. The rents of offices and warehouses are lower than in other countries.
Location Advantages
►The intersection of international sea routes in the heart of the Mediterranean

►Location close to the largest crude oil filling facilities in the Mediterranean

►Logistics, production and storage base for Europe, Middle East and Black Sea countries
INFRASTRUCTURE
All kinds of manufacture, processing and construction.

Open sheds, warehouses, storage areas, Container Park, buildings, connecting roads and service roads.

Means of loading, unloading, storage and transport.

All types of buildings, installations and equipment, which could be of use for the development of the Famagusta Free Port and Zone as the need arises. Famagusta Free Port and Zone Directorate is happy to supply any service which facilitates the activities and operations of the investor.
Services
The companies to be established in the Free Zone will be provided with consultancy services by PortISBI in their license applications and license obtaining processes.
Security at PortISBI is provided by a private security team serving 24 hours a day, 7 days a week, closed circuit camera inspection, customs custody offices, and a personalized card entry system to the free zone.
Customs Brokerage Services
In order for companies to carry out customs procedures easily and smoothly, PortISBI customs consultancy provides consultancy services.
Stock Management Services
Companies residing in PortISBI can benefit from inventory reporting and stock management services.
Storage and Transit Storage Services
It offers storage and transit storage facilities to all companies operating in PortİSBİ, with its general and private warehouses.
Upload and Download Services
Loading and unloading services of goods are provided by PortISBI with forklift parking, loading and unloading ramps, mobile ramps and conveyors.
Commercial goods and equipment in all buildings, offices and general warehouses within the Zone; It is covered by insurance covering all risks such as fire, terrorism and earthquake.
Modern Infrastructure Services
It provides appropriate infrastructure, electricity, water, telecommunications and general maintenance services for production and storage activities.
To get more information about investment conditions in Famagusta port and free zone, please contact Soha Asia Follow Up Services consultants.