The Logistic Free Zone area (LFZ) at the Port of Beirut has been inaugurated on the 12th of July 2007, by an official ceremony. Building of the LFZ represents an important step in the history of the port, and is an answer to an old request of the active interveners in the transportation sector in Lebanon. Port Of Beirut Is Among The Top 10 Seaports In The Mediterranean Sea And Is Considered The Gateway To The Middle East. The Port Was Transformed Through Self-Financing From A Local Port To A Regional And A Transshipment Hub For The Region.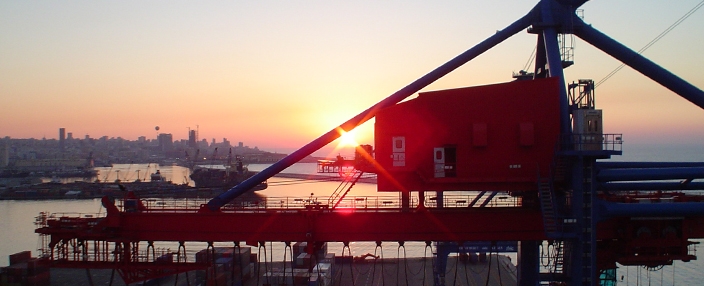 The logistic warehouses receive cargo coming from foreign countries to free zone destination. These goods can go through some operations like packing and re-packing for example, or any needed operation when it is necessary, in preparation for export via land, sea or air or for import to inside Lebanon.
Facilities
The port covers 1.2 million sq m, of which 11,200 sq m is occupied by the free trade zone. The container terminal has a capacity of 700,000 20-foot equivalent units a year. It is equipped with five ship-to-shore gantry cranes, with an outreach of 60 metres each, and 10 rubber-tyre gantry cranes.
The port handles approximately 6 million tonnes of cargo annually, representing about 55 per cent of all imports to Beirut and 60 per cent of exports. Another 20 per cent of incoming and out-going trade is handled by Beirut airport. The duty-free market area in the LFZ comprises modular shops. There are three industrial buildings covering 32,400 sq m and 52 warehouses, each built on about 200 sq m of space.
Benefits
100 per cent foreign ownership
Customs exemptions on import and export from the zone
Long-term, low-cost land and building leases
Low-cost utilities
Industries
Transport
Transit
Import, export and repacking
International trade
To get more information about investment conditions in Bahrain Logistics Free Zone, please contact Soha Asia Follow Up Services consultants.