SOHAR Port and Free Zone is a deep-sea port and adjacent free zone in the Middle East, located in Sohar, Sultanate of Oman, midway between Dubai and Muscat.
Sohar Port and Free Zone is one of the fastest growing ports in the world. Situated in Oman near the Strait of Hormuz facing the Arabian Sea, the port and free zone is located on one of the world's most important shipping routes.
Unhindered nautical access, modern logistics facilities for different types of cargo and road, rail and air connections to the Persian Gulf states make Sohar a smart logistics hub.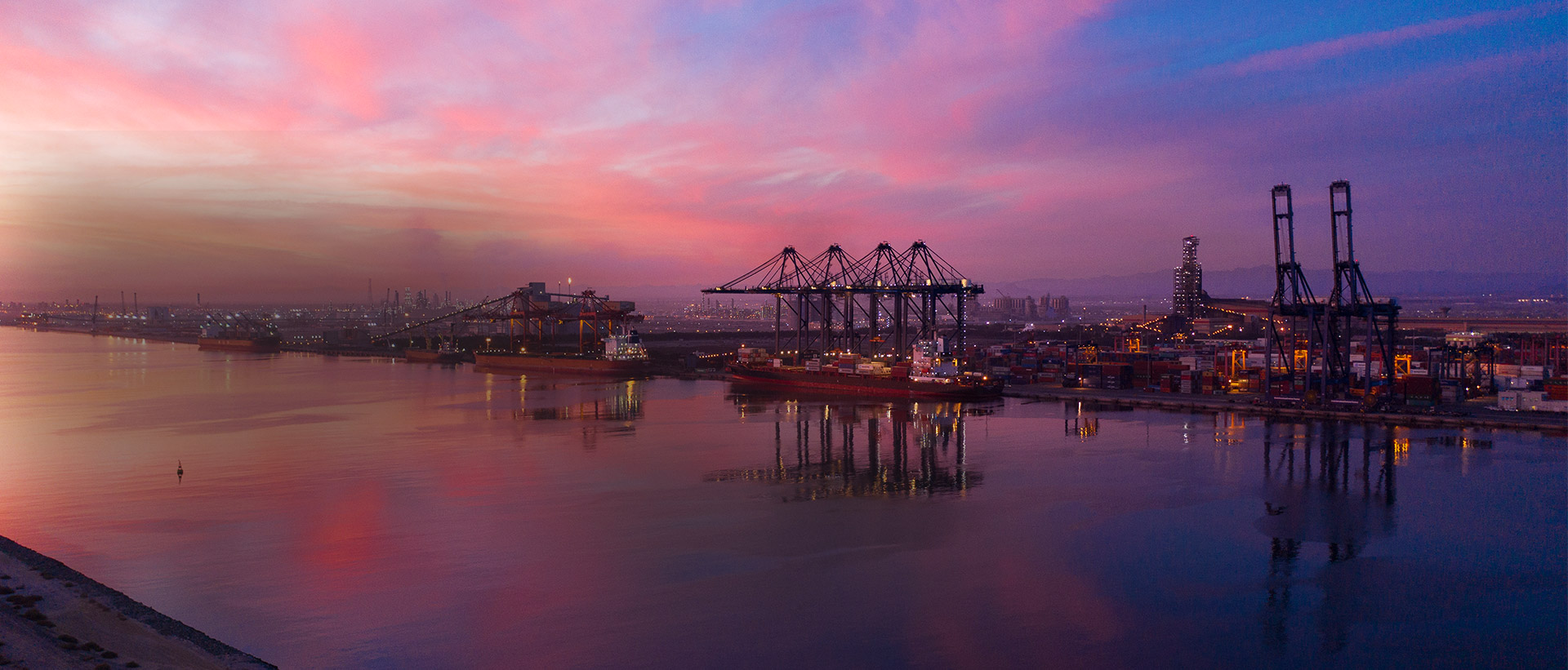 Sohar Free Zone was established in 2010 by Royal Decree no 123/2010, on a total area of 45 sq km. It benefits from a profitable outreach to both regional and global markets and has access to global shipping routes and major ports all within proximity. Sohar offers swift access to the growing Middle East, Indian and East-African markets.
Sohar Free Zone Incentives
Sohar Free Zone offers a combination of incentives for investors to set up and operate their projects easily and flexibly, in an environment where business can flourish and prosper.
100% foreign ownership
A Sohar Free Zone working company must have a minimum of 2 shareholders, both of which may be foreign entities (natural or juridical).
Corporate tax holiday of up to 25 years
Each working company has a guaranteed 10-year exemption of corporate tax (normally 12% in Oman). This exemption can be extended up to the duration of the lease contract if certain targets in Omanization are reached, which can be for up to 25 years.
One-Stop-Shop for all relevant clearance
Sohar Free Zone offers a single window through which all licenses, permits and approvals can be obtained. In practice this means that Free Zone clients require very little interaction with the various governmental institutions.
0% import or re-export duties
No customs duties on goods brought into the Free Zone. All customs processes are described in a dedicated set of Customs procedures.
0% personal income tax
No customs duties for individuals coming in and working in the Free Zone.
Low capital requirement
Sohar Free Zone maintains low capital requirements, which encourages start-up companies to invest with a lower core capital.
Relaxed level of Omanization
Investors are allowed up to a maximum 85% foreign employees, a longer corporate tax exemption can be ensured if this percentage is lowered as follows:
reached 25% Omanization after 10 years
reached 35% Omanization after 15 years
reached 50% Omanization after 20 years
Free trade agreements with US and Singapore
Free zone companies could benefit from existing Free Trade Agreements between Oman and the USA, and Oman and Singapore, as their goods could receive preferential treatment while in transit.
Potential investment opportunities "key sectors"
Sohar is on a fast track to becoming a significant regional automotive cluster – already handling over 200,000 vehicles annually.
Sohar Port and Free Zone offers an advantageous base for logistics operators in industries like steel, food ceramics, petrochemicals, pharmaceuticals and FMCG. Its strategic location makes it the perfect place to start warehousing and logistics operations for a wide range of products and commodities, either for transit through Oman, or for distribution into the region.
Oman is experiencing a rapidly rising domestic energy demand, with the Sultanate's total domestic natural gas use over the last decade almost quadrupling between 2008 and 2017. Solar energy and steam energy projects achieve the SOHAR vision by focusing on sustainability and the environment. To shape a more sustainable energy future and to offset the need of energy for energy-intensive projects, Sohar Port and Free Zone is putting up solar panels to generate solar energy, taking measures to reduce energy consumption and to reuse wastewater.
Petrochemical demand is highly correlated to population and GDP growth and the Sultanate is heavily investing in the creation of an integrated refining and petrochemicals hub. All of the projects are a part of the nation's efforts to diversify its economy away from oil export revenues.
Sohar Port and Free Zone has deep-water berths that allow for raw materials such as iron ore to be easily received, ensuring smooth primary and secondary production processes.
The polymer industry in the GCC is expected to reach 34.5 million tonnes by 2022, supporting further downstream development while growing at a compound annual growth rate (CAGR) of 3 per cent, according to the GCC Plastic Industry Indicators Report 2016. SOHAR is also looking at the development of the downstream plastics industry.
The establishment of SV Pittie Sohar Textiles also has the potential to rekindle the cultivation of cotton in the Sultanate. The facility will be the first step in establishing a fully-fledged textile cluster in the Sohar Free Zone. The facility will play the anchor role not only in terms of manufacturing of yarn but also the manufacturing of fabric and further downstream processing.
Placement Options
Lease land directly from Sohar Free Zone by entering into a long term Land Lease Agreement. Leased land can be utilized for industrial, light manufacturing, logistics and/or trading activities.
Sublease a ready-made warehouse through the 5 existing warehousing companies acting as 2PL and ready to offer a leased area for your logistics, light manufacturing, and/or trading activities.
Corporate parks (FZC) LLC building is ready to host your trading business by hiring an office space and obtaining a General Trading License. An approximate of 145 companies has been established for trading activities.
Different Licenses
A general trading license is a trade license that allows businesses to trade on every generic product. This means businesses can trade on anything and everything except those products that need an additional approval from the legislative authorities.
Logistics License
Light Manufacturing License
Light manufacturing can be defined as a light industrial business where all processing, fabricating, assembly, or disassembly of items takes places within an enclosed building. Typical items for processing, fabricating, assembly, or disassembly include but are not limited to apparel, home accessories, food, drapes, clothing accessories, bedspreads, decorations, artificial plants, jewelry, instruments, computers, and electronic devices.
Industrial License
Service Provider License
For further information regarding company registration in Sohar Free Zone or any other free zone in the Middle East, contact us at MEFZ (Middle East Free Zones) and Soha Group of Companies.