About Ras Al Khaimah
Ras Al Khaimah is one of seven Emirates that form a part of the United Arab Emirates. The UAE is located to the south east of the Arabian Peninsula.
Unlike other Emirates, oil has not been discovered in Ras Al Khaimah, so a far more diversified economy has developed, with strong tourism, service industries and real estate sectors. This is reflected by warm and positive attitudes in the Emirate, which welcomed over a million visitors in 2019.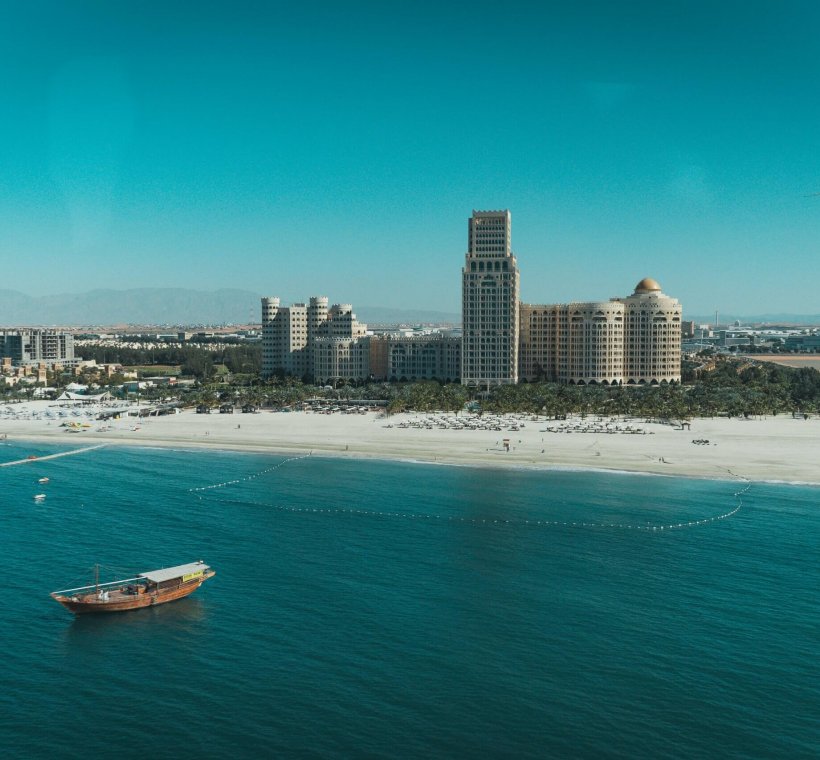 The growth of tourism in Ras Al Khaimah is based on different factors. The first of these is the diverse and spectacular natural landscape. Ras Al Khaimah offers visitors incredibly varied scenery to explore. Travel from a pristine sandy coastline and lush, green mangroves to terracotta desert sands and awe inspiring mountains. Many visitors escape from the hustle and bustle of Dubai for weekend retreats in the beautiful, unspoilt expanses of Ras Al Khaimah.
A second reason for the growth of tourism is a determination to delight visitors with a unique blend of world class hospitality and a traditional Arabic welcome. Across the Emirate, countless attractions, activities, malls, hotels and resorts have developed to enable visitors to enjoy the unique Ras Al Khaimah experience.
The climate is another great reason to visit Ras Al Khaimah. With a cool sea breeze and slightly less dry in the winter than its neighbors, temperatures in the Emirate vary from 18-25°C in January to 29-43°C in July, with eight to ten daily hours of sunshine all year round.
Ras Al Khaimah has grown enormously over the last four decades. In 1975, the population was just 43,845 but today stands at 345,000. A large number of expatriates live in Ras Al Khaimah and the Emirate is more tolerant of other cultures than many of its neighbors. Arabic and English are both widely spoken and used in the media. However, it is important to remember that this is a Muslim society, so local culture and religion should be respected at all times. Alcohol is available to expatriates and visitors, but the use or possession of narcotic drugs are completely prohibited.
Ras Al Khaimah has 4 Free Zones, for more information about each Free Zone, click on its name:
1. Ras Al Khaimah Economic Zone (Rakez)
2. RAK Maritime City Free Zone Authority (RMCFZA)
3. Ras Al Khaimah Media Free Zone
4.Ras Al Khaimah Investment Authority
Why to Invest?
There are many reasons why investment in Ras Al Khaimah is pretty much unrivalled in today's marketplace. Here are just a few of the attractive opportunities – and the reasons why they offer so much potential:
The opportunity to become involved at the start of something exciting and unique
Ras al Khaimah is a relatively new and undiscovered force in international tourism. As a destination, it has so many outstanding benefits and features – and these offer massive potential for future growth.
Official support and investment
Tourism is a priority sector for government and significant support is being given in this vital area.
In addition, the government are actively encouraging private investment, and making those investments even more attractive, by adding incentives and putting massive resources behind tourism development.
This is reflected in the astonishing improvements in the infrastructure, facilities and developments taking place in the emirate, all with the objective of increasing annual visitor arrivals.
All the ingredients for tourism success
Ras Al Khaimah is an emirate of unparalleled beauty, with a rich heritage dating back over 7,000 years.
It is also conveniently connected globally – and is an authentic destination, providing gorgeous beaches, stunning mountain and desert scenery – and resorts offering world-class luxury.
Ras Al Khaimah is confidently expected to enjoy significant growth and popularity in the next decade, ensuring any tourism investment would deliver exceptional returns.
Growing tourism market and high-performing industry
The hotel industry in Ras Al Khaimah is growing very fast.
And performance levels are improving strongly, with record occupancies and room rates being achieved.
The outlook for future growth in hotel demand is exceptionally strong and new hotel investment is continually on-going. There are numerous hotel projects which are planned or under development, but these alone will not provide sufficient new rooms to meet expected demand.
Benefits:
No Boundation
By selecting Ras Al Khaimah as your business location, you will have no strict rules and regulations as compared to any other jurisdiction. The region has got its own set of rules and regulations set by the Ras-Al-Khaimah Investment Authority (RAKIA) that needs to be abide by the business entities established in the region.
Business Confidentiality
One of the most essential things in business is to maintain confidentiality regarding the business proceedings. When it comes to RAK, this turns out to be an attention-grabbing factor that invites numerous investors worldwide. The Government takes utmost care in providing business confidentiality to the business owners.
Double Taxation Agreement
The concept of Double Taxation Agreement or DTA revolves around the fact that this agreement allows business trades between two countries by avoiding the taxes that need to be incurred during the import and export process. Business setup in RAK is prominent because the UAE has got number of DTA with multiple countries, which turns out to be a benefit for business owners to transit business.
Asset Protection
RAK comes with an added advantage of asset protection regarding the offshore company that ends up creating a barrier between the creditors and business assets. The region has got strict rules regarding business asset protection that builds a sense of security in the minds of business owners and stands as one of the beneficial factors for business.
Legal Protection
Under the lawsuit protection of RAK, the region saves the possession in case of legal proceedings and judgements. Before granting the incorporation status to a company, the RAKIA scrutinizes the complete business setup proceedings at every step. Even if there is a lawsuit, at some point in the business cycle, the possessions under the company get easily protected.
Low-Cost Warehouse
The region of RAK has got customized warehouses comprising of customizable structures for different businesses industries.
Location Advantage
Strategically located, the region of RAK has a diverse network of multilane superhighways and logistic hubs. A well-set destination for trading, manufacturing and storage, RAK grabs the attention of worldwide investors. The region has got multiple free zones that provides more flexibility to the investors and also provides them with a well-established tax-free ground for company establishment.
100% Ownership
By incorporating a business entity in RAK, you get the flexibility of owning complete ownership of your company. You won't face the issue of giving the authority or control of your company to an unknown UAE national.
100% Repatriation of Capitals Invested and Profits Earned
Investing in RAK turns out to be profitable because if a time comes when you need to avail for company liquidation, the region allows you to take back the entire capital invested along with the profits earned during the complete business cycle.
No Import-Export Tax
Before you invest in RAK, you might wonder how much tax do you need to pay if you enter the import-export zone right? Well, the good news is that you don't have to bear any tax. RAK provides the flexibility of carrying out the business import-export activities at a free of cost, and thus decreases the tax burden.
Sources: https://visitrasalkhaimah.com/plan-your-trip/essential-information/ ,
https://corporate.visitrasalkhaimah.com/investment/why-to-invest/ ,