About Antalya Free Zone
ASBAŞ- Antalya Free Zone is one of the first two free trade zones founded based on Free Zone Law dated June 6, 1985, no 3218 by Council of Ministers Decision and commenced operating on November 14, 1987.
Antalya Free Zone is established on the route of Antalya-Kemer, adjacent to Antalya Port. It is located 12 km from the city centrum and 25 km to the airport on a total area of 782.482 sqm.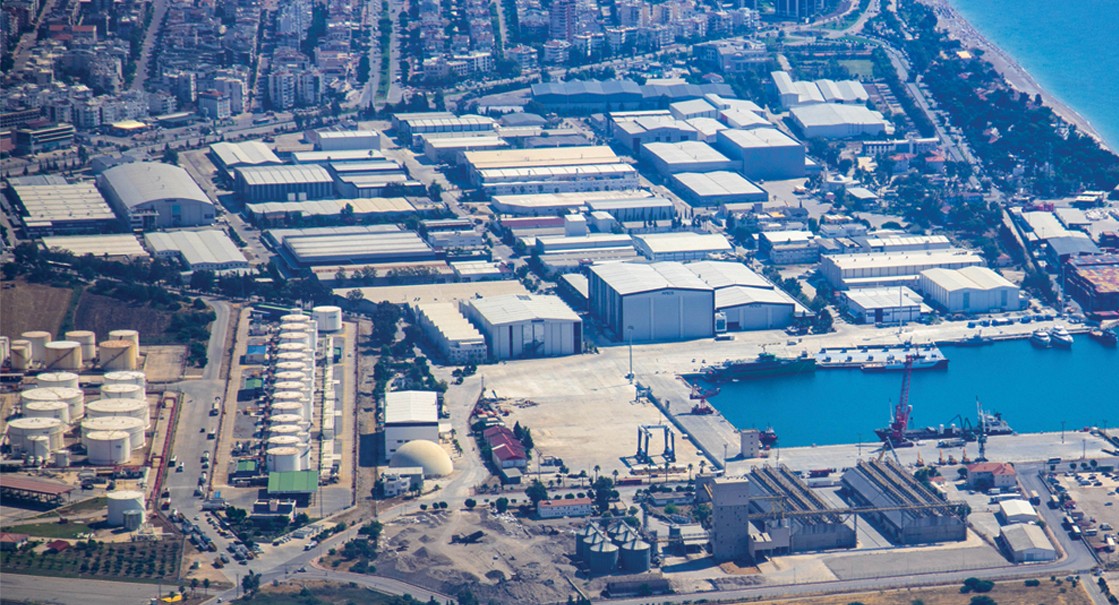 Its land and infrastructure are funded by the state, while its superstructure is funded by the investing companies. Regarding the Decision of the Council of Ministers, the right of operation was given to the private sector. To this end, ASBAŞ (Antalya Free Zone Operator Inc.) was established, with 44% shares of which belong to the public while the rest 56% belonging to the private sector. It has been conducting its activity in harmony with the Directorate of Free Zone and Customs Directorate of Free Zone which serve directly for free zone under their own administrative structure in order to minimize bureaucracy and time.
The financial and logistic advantages of the Antalya Free Zone as well as the natural advantages of the city create a highly important and cost-effective investment environment for the investors. After its establishment in 1987, in the first years, the zone was used as a machinery park for the companies that take tenders from the Mediterranean countries. Then in 1994, a decree was issued to open shopping malls for tourists considering the increase in the tourism potential of the city. Since 1995 Antalya Free Zone has made considerable progress in terms of textile production. Maritime is one of the fastest-growing sectors in the country. Therefore, Antalya Free Zone has received much interest in building mega yachts since 2000 and attracted many investors' attention.
This zone operates harmoniously with the tourism texture of Antalya without polluting the environment and creating any visual and noise pollution. It embraces 106 firms that operate in such sectors as luxury boat construction, medical, agriculture, textile, mining, construction, electric & electronics, chemistry, and services. The firms operating within the Free Zone can either be fully national or international. This Free Zone is next to the EU and Middle East markets. Many industrial products produced in Turkey can enter the EU market with zero customs duty. Moreover, transportation is available from Zone to port, roads, culture, tourism, entertainment, and recreation centers.
What makes Antalya Free Zone special is that it is located close to both Airport and City Centrum. This instantly brings many advantages. It is one of a few coastal free zones. Therefore, the goods are delivered directly from the zone's own port. As it is advantageous in terms of transportation and accommodation, both investors and international customers prefer Antalya for their trade and tourism activities. The operator of Antalya Free Zone, ASBAŞ, was entitled by the international TÜV Industry Service GmbH to have a DIN EN ISO 9001: 2015 Quality Management Certificate
This zone has the capacity of competing with all developed free zones by the means of electricity, water, telecommunication services, roads, green spaces and treatment facilities. Since 1998, it owns a quay for all kinds of cargo handling. Their aim is to make Antalya Free Zone one of the most important and profitable investment center in the world.
Antalya Free Zone, not only with its worldwide connections but also modern infrastructure, communication and transportation, is the center of Russia, Turkic Republics, Middle East, Mediterranean and North African markets. On the other hand, Antalya, thanks to its success in tourism, provides high quality accommodation and social activities to foreign investors.
Antalya Free Zone Port provides loading, unloading, open stock and warehouse services on two docks of total 400 meter-long.
Advantages
The free zones are considered outside the customs borders. Legislative provisions pertaining to taxes, levies, duties and to customs and foreign exchange obligations may not be applied in these zones.
» Being able to benefit from the tax advantages for producers

» Being able to make mid and long term plans

» Opportunity to transfer profit freely

» To provide ease in trade

» Commercial activity exempted from Customs Tax Procedures

» Ease in gaining Free Movement Documents that are required by EU and Customs Union Criteria

» Equality Principle

» No limitation of time

» Able to determine commercial activity regarding to market needs and conditions free from bureaucracy

» Able to carry out a more realistic inflation prediction

» Able to reach all domestic and international markets

» Minimized bureaucratic procedure and dynamic business management

» Strategic Advantages

» Convenient and inexpensive infrastructure opportunity for all means of trade and industry

» Able to benefit from supply chain opportunities.
Types of Activity
Production; Purchase of raw materials and intermediate goods, selling, marking, packing, labeling and exhibiting of final goods can be performed. Selling of excess of raw material and intermediate goods stock can be sold provided that Free Zone Directorate approves.
Banking; Banking activities
Purchasing – Selling; Purchasing-selling, storing, labeling, packing and exhibiting of the commercial goods can be performed.
Repair Maintenance; Maintenance and Repair sector activities
Office Renting; Completed warehouses can be rented
Warehouse Operating; Goods owned by other s or non- real or legal entities can be stored.
Others; In many business areas other than the above fields of activity, ASBAŞ also has its fields of activity.
Source: www.asbas.com.tr