The Dubai International Humanitarian City(IHC) is the largest humanitarian hub in the world. IHC is the only non-profit, independent, humanitarian free-zone Authority hosting a community of around 80 members comprised of UN organisations, non-profits and non-governmental organisations,in addition to commercial companies. The International Humanitarian community in Dubai consists of about 500 people representing more than 68 nationalities. With the current strategic location near Al Maktoum Airport and close to Jebel Ali Port, tripling its size from the previous 30,000 square meters to 90,000 square meters, giving members the ability to move shipments from sea to air in as little as 10 minutes. Today, the International Humanitarian City offices and warehouses have further expanded to 135,000 square meters in size.The International humanitarian city together with its community is continuing its journey by preparing itself for any new challenges, creating new synergies and partnerships with innovators, in addition to partnering with private sector players operating with high-level standards. IHC is also partnering with academic institutions, to prepare the future generation of humanitarian workers.
REGISTRATION AND LICENSING
The International Humanitarian City is an independent free zone Authority where humanitarian organisations and commercial companies can register and get licensed.
IHC provides an adequate environment to foster partnerships and social responsibility in a clear legal framework.
Manufacturers and suppliers of goods and services to humanitarian agencies can also register and be part of IHC community.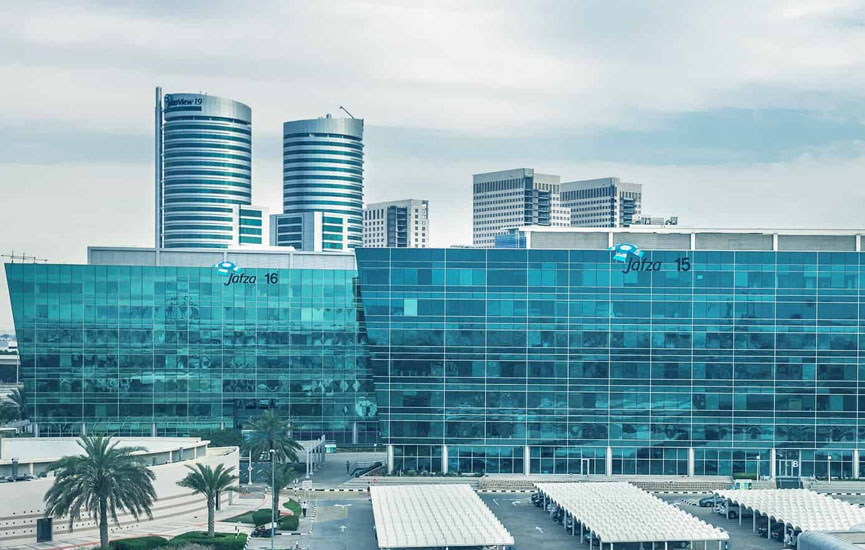 Location
Due to Dubai's strategic geographic position on the path between Middle East, Asia and Africa, and IHC being located only 10 minutes away from the Jebel Ali seaport and Al Maktoum airport, it enables the humanitarian community to reach, within 4-8 hours, two-thirds of the world population living in hazard-prone areas.
The IHC Humanitarian community has been able to dispatch and serve populations affected by disasters in the Pacific Islands as well as into the Caribbean, hence proving its international role.
WHY IHC?
Designated Free Zone

100% foreign ownership

A community of humanitarian experts

Commercial companies are free to move from one freezone to another

Government Support and Services

Assistance with customs formalities, visas issuance, and other government services

Mobility of Resources

Private Sector and CSR Advisory

Cost-effective Procurement Options

Administrative Support

Minimal Red Tape Two-Year Licensing Option*

Focus on development and emergency response

Fundraising Facilitation

Warehouse/ Facility Management

One-Stop-Shop for Registration & Licensing

A variety of licensing options
* Two-Year Licensing Option:
Seamless operation to ease the business of the members by giving a longer licensing period.

Reduce the frequency, documentation, and preparation for license renewal from the member side

Lower cost of renewal as the Legalization of overseas documents needs to take place once in two years
Licensing Types
Establishment

Type

Price * AED

NPO

Standard Office

18,274

Business Center Desk

11,250

Commercial

Standard Office

32,064

Business Center Desk

20,800
* Prices are annual
| | |
| --- | --- |
| Warehouses Per Square Meter | Price AED |
| NPO | 269 |
| Commercial | 376 |
Standard office Package
With IHC Standard Office Packages, you get privilege services which include:
Utility charges included

Establishment Card Visa (2)

24-hour security and access

20 sq/mtr office space

Free conferencing and meeting facilities

Free Transportation (From nearest metro station to IHC)

Free Wi Fi

Fundraising option for NPOs

Access card
Package includes: Registration & License fees, Maintenance, General Services, Utilities
Note: Visa cost will be an additional charge when using IHC services
Business center Package
With IHC Business Centre Packages, you get privilege services which include:
Common Reception service

Fully connected work station

Conferencing and meeting facilities

Free Transportation (From nearest metro station to IHC)

Free WiFi

Common Pantry

Sharing Stationary Basket

Inclusive of all utility charges Establishment Card

Visa (2)

Smart Printing (controlled: First 100 pages free)

24-hour security and access

Access card

Minimum Business centre Usage – 10 hours per week
Package includes: Dedicated Hot Desk, Registration & License fees, Maintenance, General Services, Utilities
Note: Visa cost will be additional which should be paid upon taking the service from IHC.
MEMBERS BENEFITS
Government Services
IHC offers a range of government services to its members to facilitate their operations:
EMPLOYMENT VISA SERVICES
In Country

New Applicants Outside the UAE – Renewal
DEPENDENTS AND HOUSEMAID VISA SERVICES
VISIT VISA SERVICES
FUNDRAISING
IHC Facilities
IHC Facilities consists of more than 135,000 square meters which provides support to its members in their daily operations and activities.
IHC Facilities consist of
Offices

Warehouses

Open yard

Helipad

Kitting Centre

Cold Chain

Temperature controlled warehouses

Permanent humanitarian showroom

Events and conference facilities

Car parks

24-hour security
Other Benefits
Brand Exposure:

Individual Member's page includes Logo, office contact details, brief, and website on IHC's website.

Posts on social media platforms on related activities.

Push notifications on IHC platforms.

Member's story in the annual report.

Circular to IHC's community about member's news and offers.

Distribution of members promotional materials in IHC's premises including offices & warehouses.

Designated Free Zone

Minimize the Lead time of import and export transactions.

IHC is part of the Jebel Ali and DWC cluster, thus this facilitates the import and export process.

Non-applicability of VAT on transfer of goods between IHC and other Designated zones.

Refund of VAT payment on purchases from local market and on supply of services for humanitarian organisations holding a Tax Reference Number, where the purchased goods and services are work-related.

World-class facilities that include training, meeting rooms, and auditorium free of charge.

IHC members can promote their products in a permanent exhibition area in IHC's warehouses where all official and educational visits are conducted.

Members are also engaged in initiatives led by IHC.

Partnerships and collaboration opportunities between IHC's community are encouraged.

Engagement in international and local official events like: media interviews, media visits, annual Suhoor, etc.

Emergency Response Task Force coordination for members conducting emergency response activities.

IHC provides to its members a special discount rates for their members and guests up to 25% on economy class.

Hotel discounts for IHC members

IHC offers a free shuttle bus service for a round trip twice daily to IHC from Ibn Battuta mall

Use of IHC Facilities

Engagement Platform

Coordination

Airlines Flight Discount

Hotels Discount and Shuttle Bus Services
source: International humanitarian city
To Get More Information About Investment Conditions In Free Zones Of Dubai, Please Contact Soha Asia Follow Up Services Consultants.