Welcome to Dubai Design District (d3), a space where the world of design, art and fashion co-exist, where you'll be inspired to discover new perspectives and change the ordinary to the extraordinary.We are the region's first and largest design district playing home to the biggest global, regional and local brands within the art, design and fashion industries. We not only welcome, but enable disruptive thinking to create a world of endless possibilities through their beautifully designed spaces and unique community offerings.
Dubai Design District is home to a growing community of creative thinkers in design, the arts and international fashion houses. Built on the principles of a smart city that provides digital connectivity to an innovation-based economy, the platform showcases a mix of local and international talents, companies that specialise in innovative production, and designs that formulate inspiring art and culture. The vibrant community located near Burj Khalifa and the Dubai World Trade Centre, nurtures and empowers new talent by hosting major industry events and providing a variety of leasing options.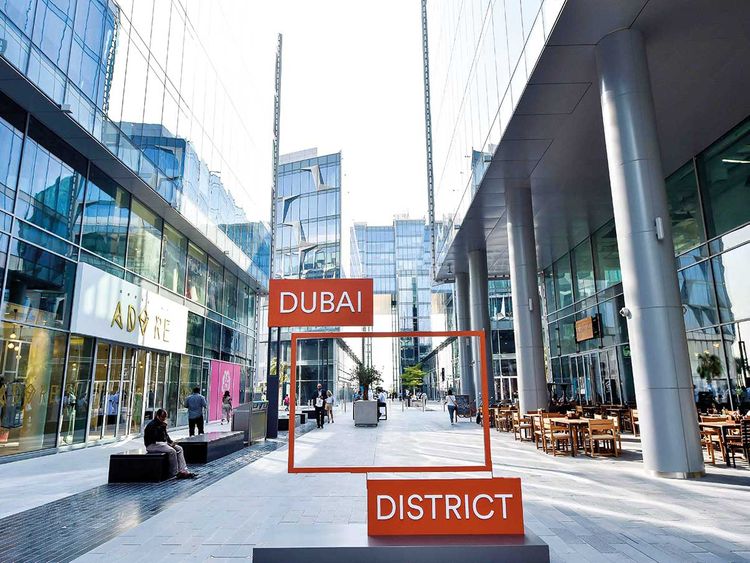 One of Dubai's coolest new neighbourhoods, Dubai Design District features avant-garde design, trendy shopping and art concepts in one stylish space.
d3 also plays hosts to many of Dubai's flagship design events. Along with the prestigious Dubai Design Week, which showcases exhibitions, commissioned installations, insightful talks and more, the district also stages Sole DXB, where you'll find a celebration of everything from street fashion and music to art and sport.
But Dubai Design District isn't strictly an arts or event-focused destination. It's also a thriving mini culinary hub of top-notch restaurants, where you can sample everything from Japanese street food at Akiba Dori and health-conscious bowls at 1Life, to Syrian comfort food at Mum's Table, gourmet French dishes at Chez Charles and so much more.
Getting there: There are designated bus routes – F13 – from the Burj Khalifa/The Dubai Mall metro station to Dubai Design District. For a scenic alternative, step aboard a Dubai water taxi and glide to the Dubai Design District station.
Our offerings
From gorgeous offices with views and attractive studios to authentic dining experiences and homegrown lifestyle boutiques, d3 is the region's prime design hub that has something for everyone.
Phases
The development of d3 has been separated into three phases.
Phase 1
Phase 1 was completed in 2015, with 1.2m sq. ft. of offices, studios, ateliers, showrooms, and over 200,000 sq. ft. of retail space.
It contains 11 buildings with an estimated 100 retail units and 1,000 office units.
Phase 2
Phase 2 will see the construction of the creative community which will house a range of design industry workshops, studios and showrooms. This phase is due for completion in 2019. The creative community is being designed by Foster and Partners.
Phase 3
The third phase of the development will focus on d3's 2 km long Creek side promenade which will feature hotels, international and regional food and beverage offerings with a wide selection of hospitality and leisure facilities. This phase is due for completion in 2018.
source: dubai design restrict
To get more information about investment conditions in free zones of Dubai, please contact Soha Asia Follow Up Services consultants.