Dubai Textile Village free zone is the joint venture between TEXMAS and Dubai Port and Customs Authority to enable the textile dealers in the Emirate and other parts of the sphere. This free zone has a number of features like easy business setup and 24*7 assistance which can be a big boost for the companies' setup in the area. DTC is an entity located in Al Awir Free Zone, promoting the storage of textile fabrics for long periods without enticing customs duty, which is 5% currently.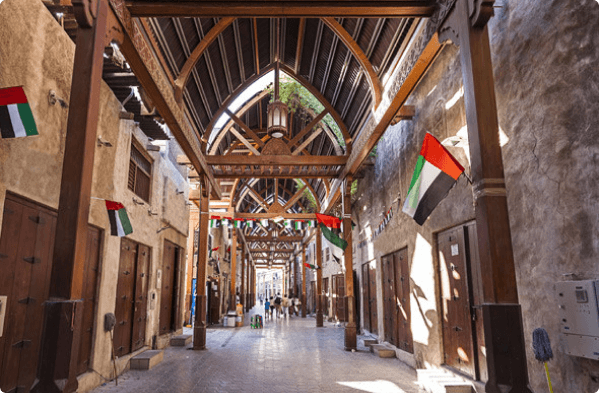 DTC free zone also has the full support of Dubai Ports and Customs; the Customs Authority will help to handle the visa requirements of DTC members. The rents and the terms of the lease are being accessible to the members are very competitive and welcomed by TEXMAS and the textile merchants of the country. This is why it is one of the most sought after free zone for people in the textile industry.
Offering warehousing, showroom and office space, dedicated Dubai Customs and Immigration Services (EZW), Dubai Textile City embodies TEXMAS'S mission of facilitating the success of its member merchants. Dubai Textile City has been a major factor in positioning Dubai as the undisputed textile trading hub for the MENA region and the African continent.

Dubai Textile City Advantages
100% ownership
No intermediaries, so costs tend to be lower
Predictable and stable legal system
Low operating costs
First-rate logistics infrastructure including two 40 feet bays for each warehouse
Easy access to airports, ports and other Emirates
Options for subleasing a warehouse
Large community hall available at nominal charges
Ample and free parking for customers and visitors
Gated and secure premises
The former ruler of Dubai, His Highness Sheikh Rashid bin Saeed Al Maktoum would often say, "If it's good for business, it's good for Dubai".
This enlightened policy was a principal driver behind Dubai becoming first a regional trading hub and then one of the major business cities in the world, a city that sits at the crossroads of Asia, Africa and Europe and is perfectly positioned to leverage opportunities in a region that has nearly half the world's population and economic output.
The textile trade was among the first to set up in Dubai. Enterprising merchants from the Middle East, Asia and Africa came to Dubai because of its liberal business environment, excellent infrastructure, stable and predictable regulatory framework and cosmopolitan environment.
With the enabling policies of the government, the textile trade prospered in the city. Today, the textile trade employs over 10,000 people and has business links with over 50 countries.
Source: Dubai Textile City
To get more information about investment conditions in free zones of Dubai, please contact Soha Asia Follow Up Services consultants.