Dubai Healthcare City is an urban healthcare landmark facilitating individuals and corporations to advance their healthcare services, engage with the community and enjoy the energy of the central healthcare districts.
Dubai Healthcare City is not only an urban healthcare landmark, but also a great place to live and invest.
Dubai Healthcare City (DHCC) is a free zone committed to creating a health and wellness destination. Launched in 2002 by His Highness Sheikh Mohammed Bin Rashid Al Maktoum, Vice-President and Prime Minister of the UAE and Ruler of Dubai, the free zone has worked towards its vision to become an internationally recognized location of choice for quality healthcare and an integrated center of excellence for clinical and wellness services, medical education and research.
The free zone is governed by the Dubai Healthcare City Authority (DHCA) and regulated by the independent regulatory arm, Dubai Healthcare City Authority – Regulation (DHCR), whose quality standards are accredited by the International Society for Quality in Healthcare (ISQua).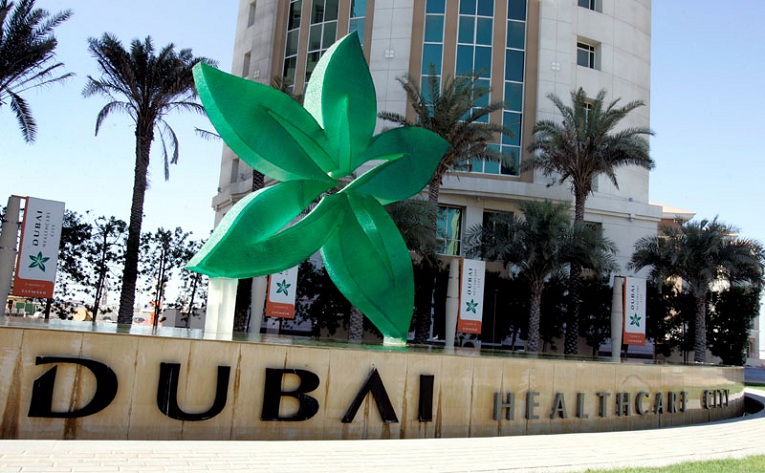 Setting up Business
Setting up a business in Dubai Healthcare City (DHCC) gives you direct access to custom-fitted facilities, modern offices or desk space, it brings an unparalleled opportunity to join an established, evolving, flourishing community of excellence in the heart of the Middle East's commercial and medical tourism capital. Dubai is now 6th in the Medical Tourism Association's rankings, backed by a rapidly developing proposition underpinned by enhanced patient safety, global talent delivering world-class health services, and the patient-friendly Dubai Health Experience portal. Establishing a base in DHCC will also bring direct access to a surging UAE population, that places great value on excellence, an increasingly ageing demographic who will make up 29% of the country's residents by 2050, With health and wellbeing rising up the national agenda, launching operations in Dubai's health and wellness destination puts business at the forefront of emerging trends.
What's more, as DHCC is a free zone, you will wholly own your business, whether clinical or non-clinical operation, and set-up could not be easier. The three-step registration can be accomplished online through Dubai Health City Authority's (DHCA) Masaar e-services system.
Facilities
In Dubai Healthcare City (DHCC), we pride ourselves on attracting the best-in-class healthcare providers and professionals across more than 300 specialties in secondary and tertiary care including oncology, pediatric, orthopedics, kidney transplantation and mental health and innovative platforms like telehealth and instant appointment booking, positioning Dubai as a preferred healthcare investment destination.
Furthermore, specialists in the medical, scientific, research and technical fields can apply for 10-year residency visas.
Dubai Healthcare City welcomes and actively encourages set up across healthcare, education, hospitality, retail, and wellness clusters through a range of investment models including freehold land sales, leasing, and joint ventures with a DHCA professional guiding you step-by-step through the process.
Long-term Leasing Solutions
With great agility we cater to the needs of businesses and offer plots for leasing Clinical or commercial offices qualify for plots with an average gross floor area of 100,000 sq. ft and a recommended height of up to seven floors.
source: dubai health care city
To get more information about investment conditions in free zones of Dubai, please contact Soha Asia Follow Up Services consultants.