Launched in 1988, Ajman Free Zone (AFZ) is an independent dynamic ecosystem that offers businesses and investors a sustainable environment to help accelerate growth and development. The organization was granted independent status by H.H. Sheikh Humaid bin Rashid Al Nuaimi, Supreme Council Member and Ruler of Ajman. AFZ, which was also awarded 7th place at the Global Free Zone of the Year Awards 2021 by the FDI Intelligence magazine, positively impacts the economy by providing high-quality services to over 9,000 companies in various industries from over 165 countries.
AFZ, which is also located in close proximity to the Ajman Port and Dubai and Sharjah international airports, offers competitive packages and facilities that help companies thrive by facilitating growth and expansion, through modern solutions, quick license set-up processes, and competitive prices with low costs among other advantages.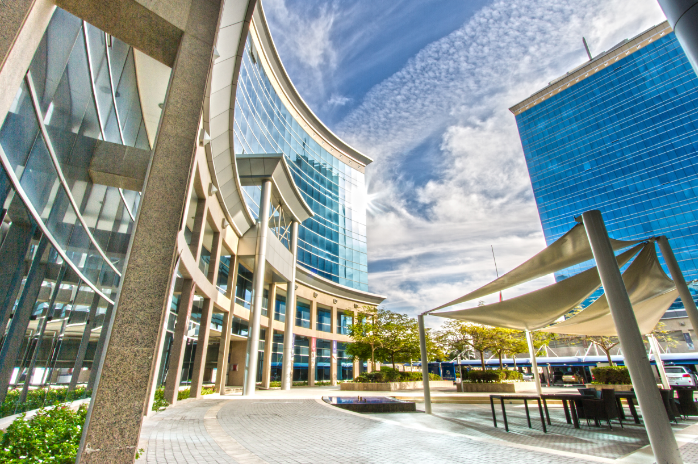 AFZ+, the free zone's value-added services, further provide partners of the AFZ with attractive growth opportunities, as well as assistance in carving out niche markets, strengthening its commitment to contributing to the socio-economic development of Ajman and the UAE.
WHY AJMAN FREE ZONE
PROXIMITY: Convenient accessibility to the adjacent Ajman port and Dubai and Sharjah airports
DIGITAL GATEWAY: Fully digitized set up for business
VALUE-ADDED SERVICES: Value-added services for all types of businesses including banking, medical, insurance
100% COMPANY OWNERSHIP: Customizable business packages
CUSTOMER CARE SUPPORT: 24-hour round range of business support services
WORLD CLASS INFRASTRUCTURE: Developed infrastructure in the thriving epicenter of business and trade
STRATEGIC BUSINESS SECTORS
At Ajman Free Zone, meeting the needs of thousands of businesses from a myriad of sectors is the goal, however, it is recognized that in today's innovative world, some sectors are particularly well-positioned for growth. AFZ's aim is to unlock future opportunities, change the flow of goods, harness talent, and attract finance while considering the impact on supply chain efficiency and international as well as local regulations. This mission is particularly appropriate to the following sectors:
FOOD & BEVERAGE
AUTOMOTIVE
HEALTH & BEAUTY
CONSTRUCTION
EDUCATION
AGRICULTURE
OIL & GAS
PAPER & PACKAGING
JEWELLERY (GOLD & DIAMONDS)
MEDIA
MARINE
TEXTILE
ADVANCED TECHNOLOGY
SPORTS
CHEMICAL INDUSTRY
TRADE
Facilities
At Ajman Free Zone, you can have all your basic needs covered to help you conduct your business in a worry-free atmosphere. Be it providing, or efficient delivery services, or even looking after medical and insurance needs for your business.
EXECUTIVE OFFICES
Work can be fun and fruitful while done from the confines of your comfort. Ajman Free Zone executive offices are spacious, strategically located, and created optimally for your business needs and to ensure flexibility and convenience when it comes to working. AFZ also provides support in customizing office spaces to fit the exact creative requirements of your business setup.
OFFICES
As the value of workspaces when it comes to productivity is recognized at Ajman Free Zone, AFZ'S Furnished Office spaces are designed exclusively for startups, emerging entrepreneurs, and organizations that wish to establish their operations or expand. Ajman Free Zone also offers a wide range of customizable offices, with amenities tailor-made to fit whatever your requirement may be.
BUSINESS CENTRE
AFZ Business Centre offers a practical shared co-working space, meeting rooms, and a networking lounge. Start-up and SME companies can operate within a pleasant business-like environment without incurring high overhead costs, and as they grow, they can be accommodated with more space.
FREELANCER & PIONEERS HUB
AFZ knows how important business dreams are, especially for all freelancers and graduates. At Ajman Free Zone, you are provided with flexible co-working spaces giving you the freedom to pursue your business in a cost-efficient manner, and without the restrictions of long-term overheads.
AI ROBOTICS HUB
The one-stop-shop hub at AFZ helps entrepreneurs, entities & SMEs to develop new ideas to reach out to the marketplace, network with like-minded industry experts, and upskill themselves via events, webinars & training programs. It also provides business partners with access to Ajman Free Zone's funding community. The AI robotic hub facility is equipped with co-working space & executive offices.
E-COMMERCE HUB
E-commerce hub, a co-working space to network with like-minded individuals with a wide array of incentives, assistance, and co-working space.
ECO-FRIENDLY ZONE
AFZ Gold LEED-certified eco-friendly warehouses prioritize sustainability above all else. These state-of-the-art new facilities are located strategically, close to the Ajman Port and Customs, ensuring easy inward and outward movement of products. The customizable spaces start at 100M2 and are equipped with a wide range of amenities to meet your diverse business needs.
WAREHOUSES
Based on your requirement, pre-built warehouses start from 100 sq. meters. are available in a specially designated area, fit-for-purpose infrastructure that offers easy access to the port.
TEMPORARY LEASING WAREHOUSES
Ajman Free Zone (AFZ) temporary leasing of warehouses is an addition to its wide array of offered services and products. This flexible solution comes as a response to the growing demand from customers for storage units.
The warehouses' units for short-term rent are available in different sizes to meet customers' various needs, including utility services. In addition, this service is exempted from paying value-added tax (VAT) and has been made available as well for customers who are not licensed at Ajman Free Zone.
ONSITE ACCOMMODATION
AFZ's onsite accommodation is spread over a provision of buildings with comfortable room spacing. The range of facilities includes a 24/7 security service, centralized air conditioning, lavatory and laundry services, prayer accommodation areas, restaurants, and eateries with an outdoor seating area. and parking facilities for cars and bikes.
LAND
Land area is given on a lease of 20+ years to those investors wishing to build their own facility to suit their individual requirements.
TYPES OF BUSINESS
At Ajman Free Zone a very diverse range of business types is catered to, so registering your company under an appropriate category is straightforward. Whether you are a local freelance practitioner, or your company operates abroad and is seeking representation in the UAE, you can be equally assured of AFZ's simplified setup process, exceptional service, and committed support.
AFZ's SERVICES INCLUDE
Formation of companies:
1. Issuing of licenses
2. Services provided to existing clients
3. Investor and Employee Visas
You can apply for ownership of the business under the following categories:
FREEZONE ESTABLISHMENT (FZE)
Companies obtaining a license under this category will enjoy the status of an entirely independent corporate entity.
BRANCH OF A LOCAL COMPANY
Free Zone Companies holding a valid license from any other UAE licensing authority are eligible for this license.
BRANCH OF A FOREIGN COMPANY
Licenses under this category are issued to companies established outside the UAE. The ownership of the company will be 100% foreign. However, sales can be made through a UAE-registered agent or distributor only. The activity may be commercial, industrial/manufacture, or services.
FREEZONE COMPANY (FZC)
Corporate individuals forming a company shall be granted a license under this category.
Activity can be industrial/manufacture, commercial, or services.
Types of Licenses
No matter what your dream business venture is, Ajman Free Zone issues licenses in a few simple steps for you to easily develop in your chosen industry. Find what suits you whether you are a trader, industrialist, service provider, retailer, freelancer, or even a fresh entrepreneur with a pioneering spirit. AFZ's licenses include:
COMMERCIAL LICENSE
Licenses that grant the capability to store, import, export, and distribute entertainment products throughout the UAE.
Products convenient for this license are business centers, offices & executive offices, warehouses and eco-friendly warehouses, land, and onsite accommodation.
Opportunity to network and engage with industry professionals.
INDUSTRIAL/MANUFACTURE LICENSE
Licenses provide necessary manufacturing facilities within the free zone for holders to accomplish multiple functions including the imports of raw materials, the manufacture of listed goods, and the export of products abroad.
Products convenient for this license are customizable warehouses, land to build your own facility, or AFZ onsite accommodation.
SERVICES LICENSE
A license authorizing conducting consultancy services across any industry
Options of various products, from a convenient business center to offices & executive offices.
PIONEERS PACKAGE
The Pioneers' Package has been created to empower youth and enable professional independence. It is available to those between 20 to 30 years of age, so it's ideal for undergraduates, post-graduates, young entrepreneurs, and start-up companies.
Flexible co-working spaces give you the freedom to pursue your business cost-efficient. manner, and without the restrictions of long-term overheads.
Members are eligible for one residence visa and family sponsorship.
FREELANCER PACKAGE
Benefit from the most cost-effective license in all the Emirates for Freelancers that fall in one of the 40 categories provided by AFZ. AFZ's economic renewal rates guarantee successful business growth in a highly competitive market.
Flexible co-working spaces give you the freedom to pursue your business cost-efficient. manner, and without the restrictions of long-term overheads.
Members are eligible for one residence visa and family sponsorship.
E-COMMERCE LICENSE
A license category, specific to companies carrying out business in electronic trading activities, allowing businesses to leverage the growth potential of e-commerce across B2C and B2B opportunities.
Products convenient for this license are offices & executive offices and warehouses.

LIST OF ACTIVITIES INCLUDED IN THE E-COMMERCE PACKAGE:
Industrial Equipment E-Trading
F&B E-Trading
Fashion Retail E-Trading
Home, Office & Personal Utilities E-Trading
Jewelry & Precious Stones E-Trading
Automotive E-Trading
Media Entertainment E-Trading
Events Ticketing E-Trading
OFFSHORE LICENSE
Offshore companies are companies that are incorporated in a jurisdiction different from the one where it carries out its business activities or companies incorporated in offshore financial centers. Offshore companies what some call a tax haven, referred to this term in a country that exempts from tax foreign investors who have bank accounts or set up companies in its territory. They make no economic or commercial activity and are termed non-resident companies. These companies are controlled by foreign enterprises or individuals that conduct their business in other parts of the world and use the tax haven only as a legal address of the company.
LIST OF ACTIVITIES INCLUDED IN THE OFFSHORE LICENSE:
One Activity to General Trading
Consulting & Advisory Services
Holding Company
Investments and Joint Investments Company
Property Owning
International Services
Professional Services
Shipping and Ship Management Companies
Commission Agents Company
Intellectual Property Holding Company (IPHC), a subsidiary or sister company of global corporations that are set up to hold the companies' IP (e.g. patents, trademarks, copyrights, etc.)
Photo and Information Source: AFZ