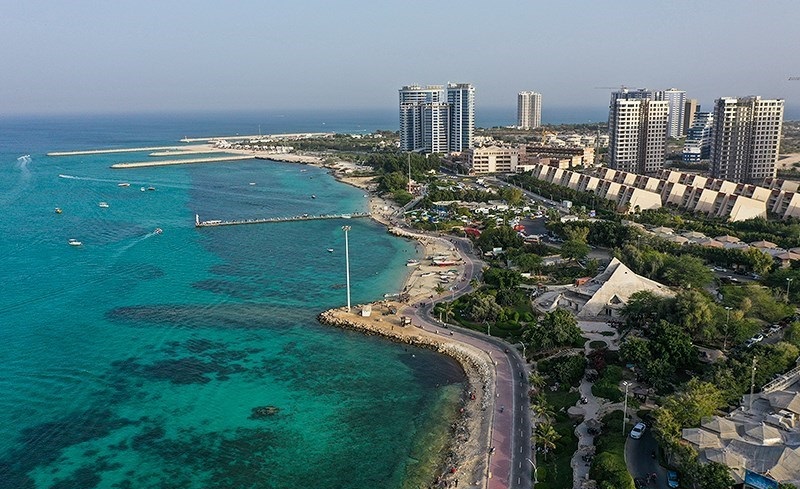 About
Kish Island, in Iran, is mostly known as a region for recreation and tourism. The island, where Iran's first Free Trade Zone was established, is the second largest island in the Persian Gulf, and in addition to attracting more than one million domestic and foreign tourists throughout the year, it holds active industries in the fields of electrical equipment, electronics, clothing, food and pharmaceuticals, chemical and cellulosic products and offshore drilling.
However, the beautiful and unique nature of the island, calm beaches, clear waters and coral sands, and the special vegetation of the island has led to the largest investments in the island in the field of tourism and related services.
The easy access of Kish to the mainland markets and the markets of neighboring countries, especially the Persian Gulf littoral states, along with the strategic location and special access of the island to international trade routes, and its advanced transportation infrastructure, made the first Free Trade Zone of Iran to be established, in 1993, and was commissioned in this region, in the islands of Kish, Hindurabi as well as Greater and Lesser Farors.
The most important missions and goals of Kish Free Trade-Industrial Zone include the development of tourism industry, banking, cultural and welfare services, development of advanced industries, cross-border medical services, electronics, oil support services, as well as the establishment of oil and oil commodity trade services stock exchanges; and turning into a center for international and regional exhibitions and conferences.
Geography
With an area about 91 Km, Kish Island is located in 18 Km of south part of Iran and in north part of Persian Gulf. It appears to be in the form of an oval with the big diameter of 15 Km and small diameter of 8 Km and it falls in the area of Hormozgan province and Bandar Lengeh city in terms of state political and administrative divisions. Some geographical features of Kish such as being located in Persian Gulf strategic geographical zone, fine climate in 8 months of year and having coral beaches have provided this island with a so unique situation in terms of tourism and trade.
Unique Advantages of Kish Free Zone
Enormous tourist attractions

Access to the international waters

No visa requirement for foreign visitors

Strategic situation and closeness to Asalooyeh

Energy resources (gas fuel) independent from the main land

Independent air lines and shipping lines with ability to carry vehicles

High level of social security and peace and low rate of social disorders

Appropriate intercity transportation facilities

Relative control of environmental pollutants

Access and closeness to international ports and cities like Dubai, Sharjeh, Manama and Doha
Advantages of Economic Activities in Kish Free Zone
20-year tax exemption for any kind of activity

Legal guarantee and support for foreign investment
Company registration with 100% foreign ownership

Activity of foreign stock exchange and product, oil and petrochemicals exchange

Exemption from customs duties for importing raw materials and industrial machinery for manufacturing units

Simple formalities for re-exports and product transit

Product transit to the countries of Middle Asia and neighboring countries with a population over 400million

Hosting vessels with capacity of 12000 tons presently and 35000 tons in the future

Exporting products abroad without customs and port duties

Low commercial interest for importing products to the country through Kish Island by 15% Independent customs in the free zones in the point connecting to the international markets

Free entering and exiting for capital principal and interest
Supporting special brands
While severely treating fake brands and preventing putting up advertising signs by legal or real individuals lacking agency, Kish Free Zone Organization is offering some special benefits to the agencies representing reputable domestic or international brands that can be mentioned as follows
10% discount for the zone duties for the agencies representing popular brands with valid standard who provide after sales services against submission of relevant documents and in case of no long stop time for the product in transiting country up to one month if transiting (article 4-17 of instruction for exports, imports and customs under No. 04/04-14300D dated 2 Mar. 2008
Customs affairs and special discounts for customs tariff
To encourage, attract and flourish product imports to the country through the free zones as per ratification No. 64648 dated 3 Mar. 2004 of the cabinet, trade interest will be decreased by 15 % of product value in this way that when entering products, the customs of the free zone receives a sum equal to 15% of declared value of product on cash or through a bank letter of
Guaranty with a 4-month due date and after forwarding products to the main land, it will return

7 to 11.5% of received sum (for the costs related)

To importation of products to the zone that means

15% of received amount on cash or through letter

Of guaranty) as per a stair table to the product owner

In case of tradesmen importing products to the main land, they may import one fourth of products to Kish Free Zone without paying customs duties
Company registration
Easy procedure for determining name and subject: Determining name of legal individuals will take place within 2 days. Meanwhile, determining subject will be much easier comparing to the main land considering the free zones regulations and particularly article 5 of the law for manner of.managing trade-industrial free zones .Elimination of redundant office bureaucracy and easy registration procedure: The applicants may register their companies within 3 or 4 days by the help of consultants to Companies Registration Office and this period is considerably less than the time at the main land and even other free zones and it is indeed competitive to other free zones across the worlds as well as developed countries: Registering company with full foreign shareholders By virtue of articles 2 and 5 of the regulations for investment in trade-industrial free zones, there is no limitation on registration of legal entities in terms of nationality. The foreign investors may investment under any proportion in the zone economic activities Virtual offices to be used by the investors: Legal individuals who lack a legal domicile may use P.O. Box for a month if they wish
Sources: www.kish.ir , www.freezones.ir