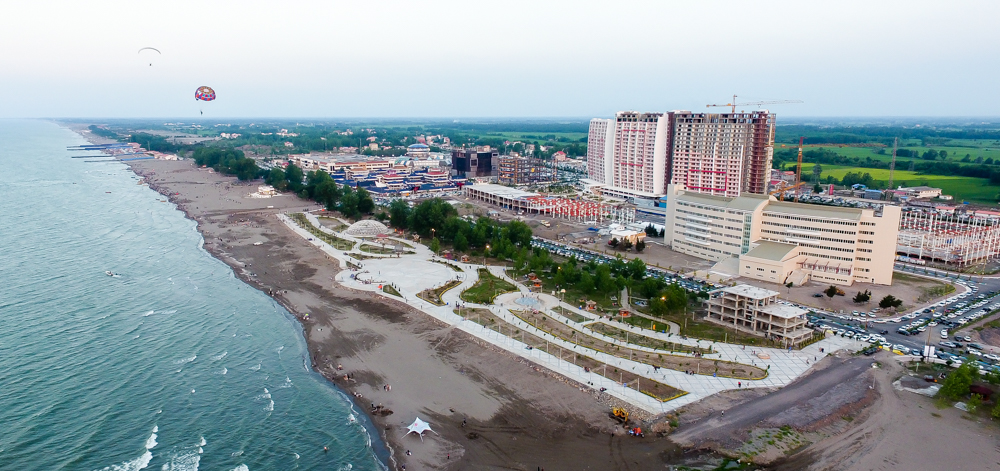 About Anzali Free Zone
As The Only Free Zone In The Southern Part Of Caspian Sea And The Economic Hub Of Iran With An Area Of 9400 Hectares Of Land And 40 Km Shoreline Is Located In Gilan Province Which Has Launched Its Official Activity Since 2005. In Addition To The Legal Incentives And Exemptions Of Free Zones Such As Tax Exemption For 20 Years, Customs Duties Exemption And Value-Added Also Has Special Advantages Such As Strategic Transportation And Transit Position By Being In North – South(Nostrac) Corridor, Existence The Most Active Port In The North Of The Iran Within Its Legal Surrounded Area, Adjacency And Relationship With Caspian Sea North Ports And Big Populous Markets Of The Caucasus And Central Asia Countries, Activity Of Anzali Free Zone Mercantile Exchange Hall, Enforcement Of Passengers Goods Law Inside This Region, Being On The Route Of Under Construction Qazvin - Rasht – Anzali Railway, Existence Of International Exhibition Center And Under Construction Caspian Port Complex, Having Mild Climate, Untouched Nature , Beautiful Beaches Of The Caspian Sea, Entertainment Centers Such As Marine Recreation Center, Coastal Sports Complex, Residential Complexes, Equipped Tourist Centers, Commercial Complexes, Industrial Zone With Infrastructure Facilities To Establish Production Units In Hi Tech Industry, Nano And Electronics, Processing And Packaging Of Agricultural Products, Medical And Optical Instruments. These Are Great Advantage And Attractiveness For Investment In This Area So That These Advantages Have Made Anzali Free Zone A Golden Opportunity For Investment.
Anzali Free Zone Includes Range Area Of Anzali City With Approximately 9400 Hectares Of Land And Waters To A Depth Of Two Kilometers From The Coastal Range. Anzali Free Trade - Industrial Zone (Except The Port Area) Lead From West To Navy Lands And Talebabad Village And From East To Village Of Chaparpood.
Anzali Free Zone Is In Three Separate Areas That Each Part Has Its Own Potentials, These Three Area Are:
Section 1 Golshan District And Trade Phase With Area Of 2091 Hectares Of Land That Includes An Agricultural Land, With Low Population Density And Residential Areas, The Least Amount Of Rice Field, Access To Beautiful Beaches And There Are Recreational And Tourism Facilities.

Section 2 Hassanroud Industrial Park And Surrounded Area About 946 Hectares Area That Include Industrial Park, National Land And Adjacent To Wetlands.

Section 3 Harbor Area Of Anzali Free Zone With 106 Hectares Area That Has Been Provided Facilities For Loading And Unloading Of Ship Cargo.

New Area Was Added To Anzali Free Zone Surrounding Area At May, 2015
This New Area Includes (6489) Hectares
(5578) Hectares At The North With The Length (21 905) Toward Sea,
(29 052) Meters From The South Toward The City Of Rasht,
(3350) Meters From The West Toward The Current Range Of Industrial Anzali Free Trade Zone
(6181) Meters From The East Toward Sefidrood River Current East Range Of Industrial Anzali Free Trade Zone.
Economic and Geographic Advantages
Existence of Port Installation, Facilities and Maritime Transportation
On The Direction of North-South International Corridor of Nostrac Which Is The 21th Century Transit Corridor of Asia-Europe Connects Helsinki Port (North Europe) Via Russia To The North & South Ports Of The Caspian Sea, Then Trough Persian Gulf To The South-Eastern Countries Of Asia
Easy Access To North & South Ports Of Europe Through Volga River & Volga-Den (Bay)

Adjacent To Ports Of Astrakhan & Lagan In Russia, Kerasnodesk In Turkmenistan, Aktau In Kazakhstan And Baku In Azerbaijan

Existence Of Access Roads To The Consumption Markets Of C.I.S Countries

Adjacency To The Rasht International Airport

International Highway Of Anzali – Rasht – Ghazvin

Existence Of Specialist Work Force

Adjacency To The Vast Gas & Crude Oil Of The Caspian Sea

Ghazin – Anzali – Astara Railroad

Closeness To Capital Of Iran (Tehran About 360 Km)

Proximity To 5 Power Plans

Possession Of Main Infrastructures
Legal and Trade Advantages
20 Years' Tax Exemption For Income And Assets

Possibility Of %100 Foreign Ownership

The Possibility Of Unlimited Investment For Both Iranian And Foreign Nationals

Full Protection And Guarantee Of Foreign Investment.

Free Transfer And Repatriation Of Capital And Profits

Flexible Banking And Monetary System And Foreign Exchange Laws

Liberal Import And Export Regulation Possibility Of Expatriating Up To %10 Of The Zone's Total Workforce

Flexible And Simplified Labor Employment Regulations, Terms And Conditions

No Tax And Duties For Raw Materials And Machinery Imported For Productions Manufacturing In The Zone

Very Law Charge And Easy Procedures For Re- Exported Goods

No Time Limitation For Discharge Of Cargo In Anzali Free Zone

Full Protection For Labor Forces, Capital Investment, Company Registration And Ingoing And Outgoing Capital.

More Charge Discount(Off) For Ships Entrance Into The Free Zone (Even Less Than %10)

Easy Registration Of Company, Industrial Firm, Institute And Intellectual Ownership In The Zone

Possibility Of Establishing Iranian And Foreign Branches Of Banks And Credit Institutions As Well As Insurance Institutes

Cargo Transit And Re-Export Without Any Limitations

Cargo Retailing For Foreign Or Iranian Nationals

Providing Land For Investors In Industrial, Trade, Tourism And Service Sections

Proximity To Industrial, Petrochemical And Manufacturing Centers

Bank & Credit, Insurance, Customs And Other Related Services Agencies Network

Modern Equipment For Loading, Unloading And Handling Of Cargo

Active Management Support
Advantages And Incentives For Import Of Goods Via Anzali Free Zone's Customs.
According To Approval Of The Council Of Ministers, All Goods That Have A Commercial Benefit, If Be Cleared Through Anzali Free Zone Customs, 15 Percent Of Commercial Benefit Can Be Collected By Free Zones As Its Tolls, These Tolls Could Be Reduced As Agreed With The Owners Of Goods Based On The Shipping Point And The Value And Type Of Goods, So This Off Cab Be Considerable For Merchants And Businessman And Could Have Benefits And Economic Justification.

Three Months' Free Warehouse For Goods That Entered To Anzali Free Zone Customs Warehouse As Container

Obtaining A Bank Guarantee From Share Of Organization Charge For 3 To 5 Months

Taking Advantages Of Exemption On VAT In Clearance Time Equivalent To 15% Commercial Benefit Of Anzali.F.Z Organization Is Taken By Customs.

Easy Access To A Variety Of Vehicles, Including Trailers And Trucks For Transportation Of Goods And Freight Containers From Anzali To Different Parts Of The Country.

Possibility For Using International Transit & TIR Carnet To Transportation Of Goods To Golshan And Anzali Customs

Presence Of Standard Representative In The Region To Facilitate And Expedite Standard Operations

There Is Possibility For Taking Advantage Of Organization Toll Discount At Clearance Time Even After Delivering Clearance Documents Without The Process Of Collecting And Refunding.

Cooperation And Collaboration With Businessmen For Removing The Possible Obstacles And Difficulties By The Customs And Marketing Organization Staffs.

Facilitate And Accelerate Clearance Of Goods By Customs And No Abandoned Goods.
The Benefits For Import Of Goods In The Trade Section Of Anzali Free Zone.
Import Of Goods To Trade Section Of Anzali.F.Z With No Need To Order Registration

Fair Tolls (Charge) At Least 2 To 10% Of CIF Value

Assessment Of Goods With Minimum Value.

Clearance Of Goods At Shortest Time Without Administrative Bureaucracy

Clearances Of Goods Only With Operating License (Activity Permit) No Need To Commercial Card.

Possibility For Purchasing Of Goods At Very Reasonable Prices Even Cheaper Than Mainland Because Of The Exemption For Passenger Goods Only With Obtaining Passenger Green Card

Tax Exempt On VAT At Clearance Of Goods.

Exempt From Direct Taxes For Whom Are Doing Business In Region Commercial Complexes.

Access To Container Warehouse And Availability Of Goods By Container After Discharge And Clearance And Transfer Of Goods To Shop As Much As Businessman Need.
Source: www.anzalifz.ir